»

Recipes

»

Beef

»

Sauced Cubed Steaks
Sauced Cubed Steaks Recipe
Cubed Steaks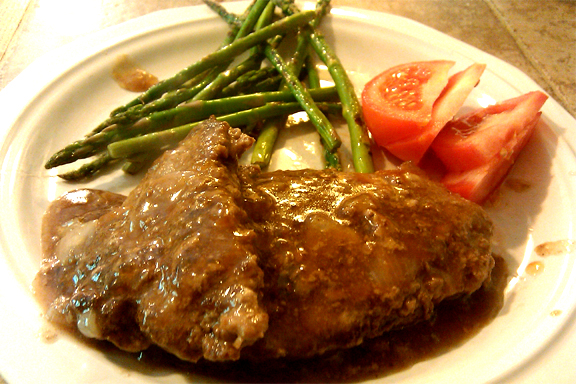 Ingredients
| | | |
| --- | --- | --- |
| | Beef bouillon cube | 1 |
| | Boiling water | 1 Cup (16 tbs) |
| | Beef cubed steaks | 4 |
| | Cooking fat | 2 Tablespoon |
| | Salt | 3⁄4 Teaspoon |
| | Pepper | 1⁄8 Teaspoon |
| | Flour | 2 Tablespoon |
| | Chili sauce | 1⁄2 Cup (8 tbs) |
| | Sliced pitted olives | 1⁄4 Cup (4 tbs) |
Directions
Crush beef bouillon cube; add boiling water, stirring to dissolve.
Set aside.
Brown steaks in cooking fat in a large frying pan, 2 minutes on each side.
Remove steaks from pan; season with salt and pepper and set aside.
Stir flour into pan drippings; stir in chili sauce.
Gradually add reserved bouillon; cook, stirring constantly, until thickened.
Reduce heat; stir in olives.
Add steaks; cook slowly 7 to 9 minutes, turning occasionally.
Remove steaks to warm platter; serve with sauce.