»

Recipes

»

Fish

»

Sashimi
Sashimi Recipe
Delicious Sashimi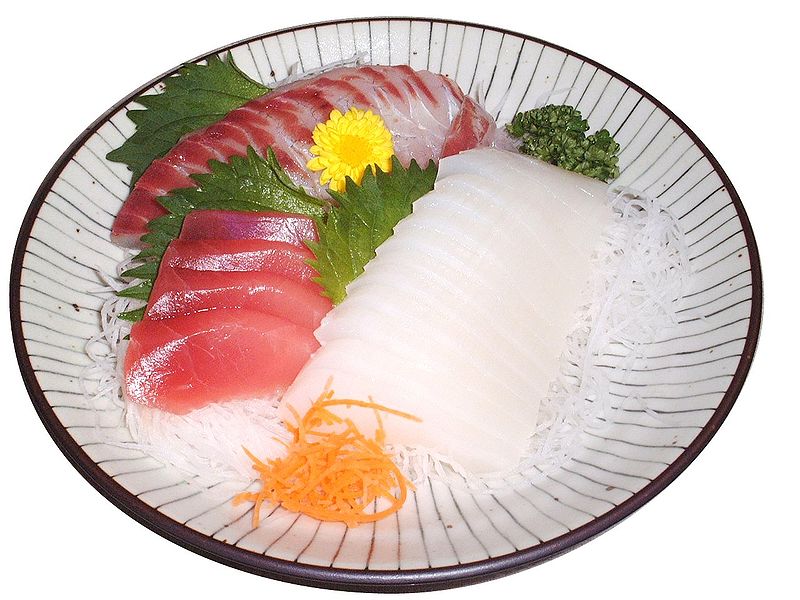 Ingredients
Sea fish

1 1⁄2 Pound

(Raw, Such As Porgy Or Scup, Bass, Tuna, Turbot, Salmon, Trout)

White radish

1⁄2 Pound

, peeled and finely grated (Daikon)

Carrots

2

, finely grated

Baby turnips

2

, grated

Japanese horseradish

2 Tablespoon

(Wasabi)

Light soy sauce

2⁄3 Cup (10.67 tbs)
Nutrition Facts
Serving size
Calories 191 Calories from Fat 26
% Daily Value*
Total Fat 3 g4.5%
Saturated Fat 0.72 g3.6%
Trans Fat 0 g
Cholesterol 55.8 mg
Sodium 2494.3 mg103.9%
Total Carbohydrates 11 g3.5%
Dietary Fiber 2.8 g11%
Sugars 3.9 g
Protein 28 g56.9%
Vitamin A 86.6% Vitamin C 34.9%
Calcium 5.5% Iron 4.6%
*Based on a 2000 Calorie diet
Directions
Using a razor-sharp knife, cut the fish into the thinnest possible slices.
Arrange the slices offish attractively on 6 platters, traditionally oblong.
Garnish with the radish, carrot and turnip in small piles.
Cover with plastic wrap and chill for 1 hour.
Mix the horseradish with sufficient water to make a paste.
Place a little on each platter beside the fish.
Give each diner a small dish of soy sauce.
Each guest dips the fish into the wasabi, then soy sauce, or mixes a little wasabi into the soy sauce.