»

Recipes

»

Chili

»

Santa Fe Chile Barbecue Sauce
Santa Fe Chile Barbecue Sauce Recipe
Santa Fe Chile Barbecue Sauce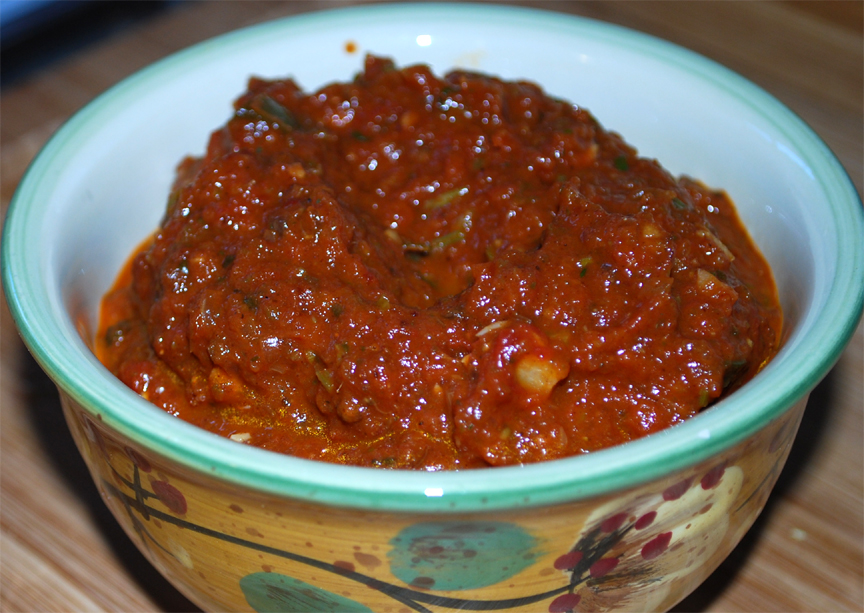 Ingredients
Dried chilies

2

(New Mexican)

Sun-dried tomatoes

6

, halves

Canned chipotle chiles

6 Ounce

(1 Can, 4 To 6 Ounce)

Garlic

2 Clove (10 gm)

Onion

1

, sliced

Scallion

1

, chopped

Oregano

1 Teaspoon

Dark beer

375 Milliliter

(1/2 Bottle)

Salt

1 Teaspoon

Cider vinegar

1 Cup (16 tbs)

Soy sauce

2 Tablespoon

Honey

1⁄2 Cup (8 tbs)

Malt extract/Molasses

1⁄2 Cup (8 tbs)

(Amber)

Lemon juice

1 Teaspoon
Nutrition Facts
Serving size: Complete recipe
Calories 890 Calories from Fat 13
% Daily Value*
Total Fat 2 g2.3%
Saturated Fat 0.32 g1.6%
Trans Fat 0 g
Cholesterol 0 mg
Sodium 5935.3 mg247.3%
Total Carbohydrates 188 g62.7%
Dietary Fiber 9.9 g39.6%
Sugars 151.4 g
Protein 11 g21.4%
Vitamin A 427.3% Vitamin C 238.6%
Calcium 22.1% Iron 37.7%
*Based on a 2000 Calorie diet
Directions
GETTING READY
1) In boiling water, rehydrate the tomatoes and chilies.
2) Allow to stand for about 20 minutes and drain. Keep the soaking liquid aside.

MAKING
3) Cut the chilies into slices and throw the seeds away.
4) Add the garlic, onion, scallions, chipotles, oregano and beer.
5) In a blender, puree the mixture till it is smooth.
6) Add some water from the reserved chili-pepper rehydration liquid and continue to beat for another 30 seconds.
7) In a saucepan, mix together the puree and all the remaining ingredients.
8) Bring the mixture to a low boil and cook for about 5 minutes. Reduce the heat to simmer.
9) Continue cooking, stirring the sauce frequently. The sauce is done when the mixture starts to stick to the spoon without dripping.

SERVING
10) Serve or use as preferred.