»

Recipes

»

Egg

»

Sangkaya Fakthong
Sangkaya Fakthong Recipe
With the simple Sangkhaya Fakhthong recipe you no longer need to worry about what to make for dessert. Sangkhaya Fakhthong to put it simply is a great tasting custard with a difference. It is a healthy easy to make dessert that is fit for your special occasion. Enjoy!!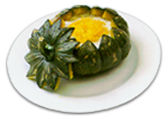 Recipe Story
Thai desert which is commonly found in the local evening food markets
Ingredients
small pumpkin

Chicken eggs

5

Palm sugar

1/3 Cup (16 tbs)

Salt

1 Pinch

Coconut cream

1 Cup (16 tbs)
Directions
Cut a slice off the top of the pumpkin, remove the seeds and most of the soft pulp. In a mixing bowl, light whisk the eggs, add the sugar, salt and coconut cream and stir until well blended. Pour the mixture into the pumpkin and cook in a steamer (for approximately 20 minutes) until the custard is set.