»

Recipes

»

Indian

»

Bengali

»

Sandesh
Sandesh Recipe
I love this Sandesh recipe.This is a classic recipe. Sandesh is a very popular sweet in the Bengal region of India and Bangladesh. It is extensively used during Dussehra and other Bengali festivals . Sandesh makes your celebration more delightful. You should try this Sandesh Recipe.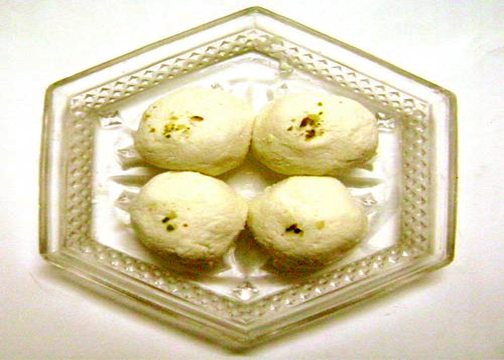 Summary
Preparation Time
8 Min
Cooking Time
25 Min
Ready In
33 Min
Difficulty Level
Easy
Health Index
Just Enjoy
Servings
8
Ingredients
Milk

1 Liter

Sugar

1⁄2 Cup (8 tbs)

Pesta

5

, chopped

Crushed cardamom seeds

2

Lemon

1
Nutrition Facts
Serving size
Calories 160 Calories from Fat 60
% Daily Value*
Total Fat 7 g10.6%
Saturated Fat 2.7 g13.4%
Trans Fat 0 g
Cholesterol 12.5 mg
Sodium 50.3 mg2.1%
Total Carbohydrates 22 g7.2%
Dietary Fiber 1 g4.1%
Sugars 19.5 g
Protein 5 g10.8%
Vitamin A 3.3% Vitamin C 9.9%
Calcium 15.3% Iron 2%
*Based on a 2000 Calorie diet
Directions
1. Dissolve lemon juice (or 1/2 teaspoon citric acid) in half cup of warm water.

2. Bring milk to boil, reduce heat and pour the acidic water all over it. Milk will curdle, stir till milk is fully curdled.

3. Pour the curdled milk over a muslin cloth. Drain out water completely. Squeeze to remove any excess water and hang the whey for about 25 minutes.

4. Empty the whey on a large plate and knead thoroughly for about 30 minutes.

5. Heat a non stick pan in medium heat and add the paneer and sugar. Stir continuously pressing with a heavy spoon for about 6 to 8 minutes.

6. Pour in a large plate, cool and mix till smooth. Take a small amount of paneer mixture and either with the help of hand or a mould make sandesh of desired shape.

7. Sprinkle crushed pesta and cardamom over each sandesh, cool and serve.