»

Recipes

»

Salmon
Salmon Scallop Recipe
Salmon scallop is a flavorful prepareation of salmon that can be served for an healthy dinner. Flavored with dillweed and pepper, the salmon scallop is cooked in the oven with celey and milk. The salmon scallop can go with rice or dinner bread.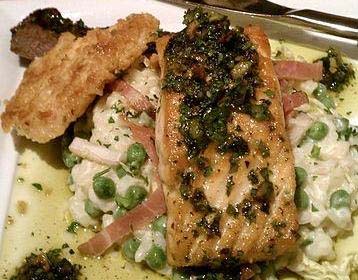 Ingredients
Salmon

1 7 3/4 Ounce

Pepper

1 Dash

Dash dried dillweed

Saltine crackers

1/2 Cup (16 tbs)

Lemon juice

2 Teaspoon

Milk

1/3 Cup (16 tbs)

Celery

1/4 Cup (16 tbs)

, chopped

Butter/Margarine

1 Tablespoon
Directions
Flake salmon (with liquid) into bowl, removing skin and bones.
Stir in remaining ingredients except butter.
Turn into 2 cup casserole.
Dot with butter.
Bake in moderate oven (350°) for 35 minutes.