»

Recipes

»

Cheese

»

Salmon And Cheese Parcels
Salmon And Cheese Parcels Recipe
Salmon and cheese parcels are snacky little filled patties made with salmon and ricotta cheese filling. Wrapped in a filo pastry, the salmon is combined along with cheese, eggs, parsley and lemon juice for flavor and baked in the microwave with a butter glaze. Adapted from Sharp Microwave and Convection Cookbook.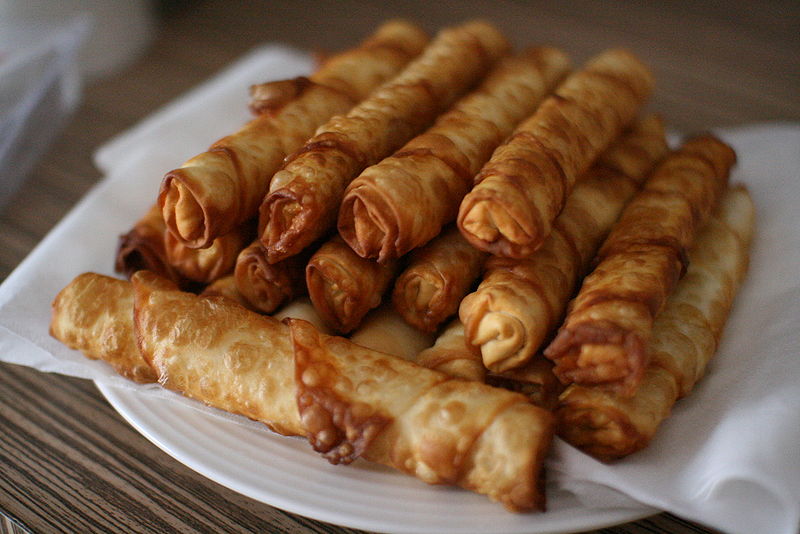 Ingredients
Canned salmon

200 Gram

(1 can)

Ricotta cheese

250 Gram

Egg

1

Chopped parsley

1 Tablespoon

Lemon juice

1 Teaspoon

Filo pastry

10 Ounce

(1 packet)

Butter

125 Gram

, melted
Nutrition Facts
Serving size
Calories 443 Calories from Fat 233
% Daily Value*
Total Fat 26 g40.5%
Saturated Fat 14.4 g72.1%
Trans Fat 0 g
Cholesterol 109.6 mg
Sodium 461.4 mg19.2%
Total Carbohydrates 32 g10.5%
Dietary Fiber 0.94 g3.8%
Sugars 1.1 g
Protein 17 g33.2%
Vitamin A 19.1% Vitamin C 6.2%
Calcium 9.9% Iron 7.4%
*Based on a 2000 Calorie diet
Directions
Preheat oven to 200°C.
Mix salmon, cheese, egg, parsley and lemon juice until well combined.
Season to taste.
Brush 2 sheets of filo pastry with melted butter and place one on top of the other.
Roll into a parcel
Brush with melted butter.
Place on a greased pizza tray and bake for 20 minutes on CONVECTION 200°C.
Image Courtesy :
http://en.wikipedia.org/wiki/B%C3%B6rek