»

Recipes

»

Sandwich

»

Salmon Club Sandwiches
Salmon Club Sandwiches Recipe
The Good News Charles Dale makes this healthy club sandwich with omega-3-rich salmon grilled in a lightly sweet, tangy tamarind sauce. The extra sauce here can be refrigerated for up to 1 week and is delicious on chicken or pork chops.
Picture Credit: Kana Okada
Recipe By: Charles Dale
Notes: Sweet agave syrup, made from agave plants, is available at health-food stores.
One Serving 662 cal, 28 gm fat, 3.7 gm sat fat, 48 gm carb, 7 gm fiber.
For more recipes, please visit Foodandwine.com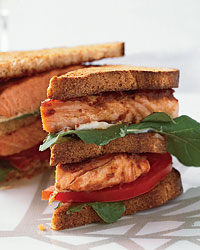 Ingredients
Extra virgin olive oil

2 Tablespoon

Onion

1 Medium

, coarsely chopped

Tamarind concentrate

2 Tablespoon

Garlic

2 Clove (10 gm)

, coarsely chopped

Dried chipotle chilies

2

, stems and seeds discarded

Golden raisins

3⁄4 Cup (12 tbs)

Tomato paste

1⁄4 Cup (4 tbs)

Agave syrup

1⁄4 Cup (4 tbs)

Chile powder

1⁄2 Teaspoon

Freshly ground pepper

To Taste

Salt

To Taste

Skinless salmon fillets

16 Ounce

, halved crosswise (4 In Number, 4 Ounce Each)

Whole wheat toast

12

(Thin Slices)

Mayonnaise

1⁄4 Cup (4 tbs)

Arugula leaves

1 Cup (16 tbs)

Beefsteak tomato slices

4 Large
Directions
1. In a saucepan, heat the oil. Add the onion and cook over moderate heat until softened. Add the tamarind, garlic, chipotles, raisins, tomato paste, agave and chile powder. Bring to a boil and simmer over low heat until thick, 20 minutes. Let cool, then puree in a blender. Season with salt and pepper.
2. Set the salmon in a large, shallow dish and season with salt and pepper. Coat with 1/2 cup of the sauce; refrigerate for 1 hour.
3. Light a grill and oil the grates. Grill the salmon over high heat, turning once and basting with another 1/2 cup of the sauce, until just cooked through, 4 minutes.
4. For each club, use 3 slices of toast; spread each with 1 teaspoon of mayonnaise and layer with the arugula, tomato and fish.