»

Recipes

»

Salmon Cheese Casserole
Salmon Cheese Casserole Recipe
Salmon Cheese Casserole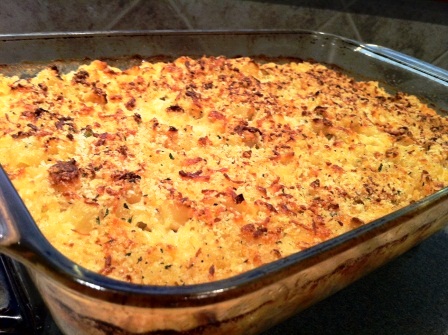 Ingredients
Canned salmon

15 1⁄2 Ounce

, undrained (1 Can)

Chopped green pepper

1⁄4 Cup (4 tbs)

Chopped onion

1⁄4 Cup (4 tbs)

Chopped pimento

1 Tablespoon

Mayonnaise

1 Cup (16 tbs)

Prepared mustard

1 Tablespoon

Worcestershire sauce

1 Teaspoon

Curry powder

1 Teaspoon

Pepper

1⁄8 Teaspoon

Bread slices

6

Cheese slices

5

, cut to form 10 triangles

Eggs

2 Large

Milk

1⁄2 Cup (8 tbs)
Nutrition Facts
Serving size
Calories 803 Calories from Fat 552
% Daily Value*
Total Fat 61 g94.5%
Saturated Fat 10 g49.9%
Trans Fat 0 g
Cholesterol 191.7 mg
Sodium 1368.3 mg57%
Total Carbohydrates 24 g8.1%
Dietary Fiber 1.9 g7.8%
Sugars 4 g
Protein 32 g64.1%
Vitamin A 10.3% Vitamin C 18.4%
Calcium 19.7% Iron 12.1%
*Based on a 2000 Calorie diet
Directions
Mix undrained salmon, onion, pepper, pimento, mayonnaise and seasoning together.
Line baking dish with bread (or cube it and mix into mixture).
Spread salmon mixture over bread.
Beat eggs and milk and pour over all.
Cover with foil and bake at 350°f for 1/2 hour.
Arrange cheese on top and bake 10 minutes without foil.