»

Recipes

»

Ball

»

Salmon Ball Casserole
Salmon Ball Casserole Recipe
Salmon Ball Casserole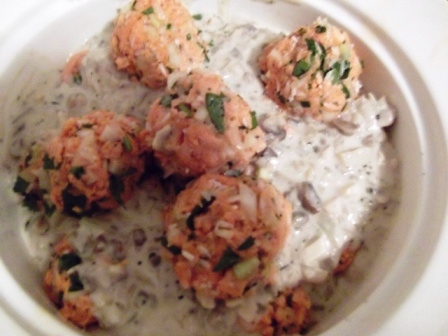 Summary
Preparation Time
15 Min
Cooking Time
20 Min
Ready In
35 Min
Difficulty Level
Medium
Health Index
Healthy
Servings
4
Ingredients
Canned salmon

15 1⁄2 Ounce

(2 Cans, 7 3/4 Oz. Each)

Long grain rice

1⁄2 Cup (8 tbs)

(uncooked)

Grated carrots

1⁄2 Cup (8 tbs)

Egg

1

Salt

1⁄2 Teaspoon

Pepper

1⁄8 Teaspoon

Chopped onion

1⁄4 Cup (4 tbs)

Canned cream of mushroom soup

10 Ounce

(1 Can)

Water

1⁄2 Cup (8 tbs)
Nutrition Facts
Serving size
Calories 346 Calories from Fat 119
% Daily Value*
Total Fat 13 g20.5%
Saturated Fat 1.4 g7%
Trans Fat 0 g
Cholesterol 80.3 mg
Sodium 1232.7 mg51.4%
Total Carbohydrates 25 g8.4%
Dietary Fiber 0.53 g2.1%
Sugars 2.1 g
Protein 25 g50.7%
Vitamin A 1.6% Vitamin C 1.2%
Calcium 2% Iron 6.8%
*Based on a 2000 Calorie diet
Directions
Place undrained salmon in bowl.
Remove the bones.
Add rice, carrots, onion, egg, salt and pepper.
Mix together.
Shape into balls, approximately 16 balls right for 9" x 9" dish.
Mix soup and water and pour over top.
Bake, covered, in oven at 350°F for about 1 hour, or microwave HIGH 10 minutes and MEDIUM 10 minutes.