»

Recipes

»

American

»

Butter Sally Lunn With Yeast
Butter Sally Lunn With Yeast Recipe
Sally Lunn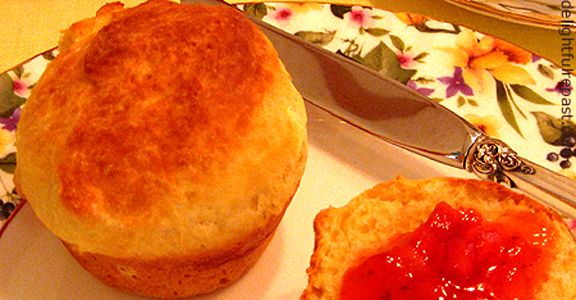 Ingredients
Milk

1 Cup (16 tbs)

, scalded

Whipped cream

1

Sugar

1⁄2 Cup (8 tbs)

Salt

2 Teaspoon

Melted butter

1⁄2 Cup (8 tbs)

Dry yeast

1

Eggs

3

, beaten

All purpose flour

5 Cup (80 tbs)

Nutmeg

1⁄2 Teaspoon

Fresh strawberries

3 Pint
Directions
Combine milk, 1/4 cup sugar, salt and butter in a bowl; cool to lukewarm.
Combine 1/2 cup warm water and yeast in large mixing bowl; stir until yeast is dissolved.
Add milk mixture and eggs; mix well.
Beat in flour gradually until smooth.
Cover; let rise in warm place for 1 hour or until doubled in bulk.
Stir down; turn into greased and sugared 10-inch tube pan.
Cover; let rise for about 30 minutes or until doubled in bulk.
Mix remaining sugar and nutmeg; sprinkle over top.
Bake in 400-degree oven for 40 minutes.
Remove from oven; cool for 5 minutes.
Remove from pan; mound strawberries in center.