»

Recipes

»

Indian
Saffron Rice Recipe
Saffron Rice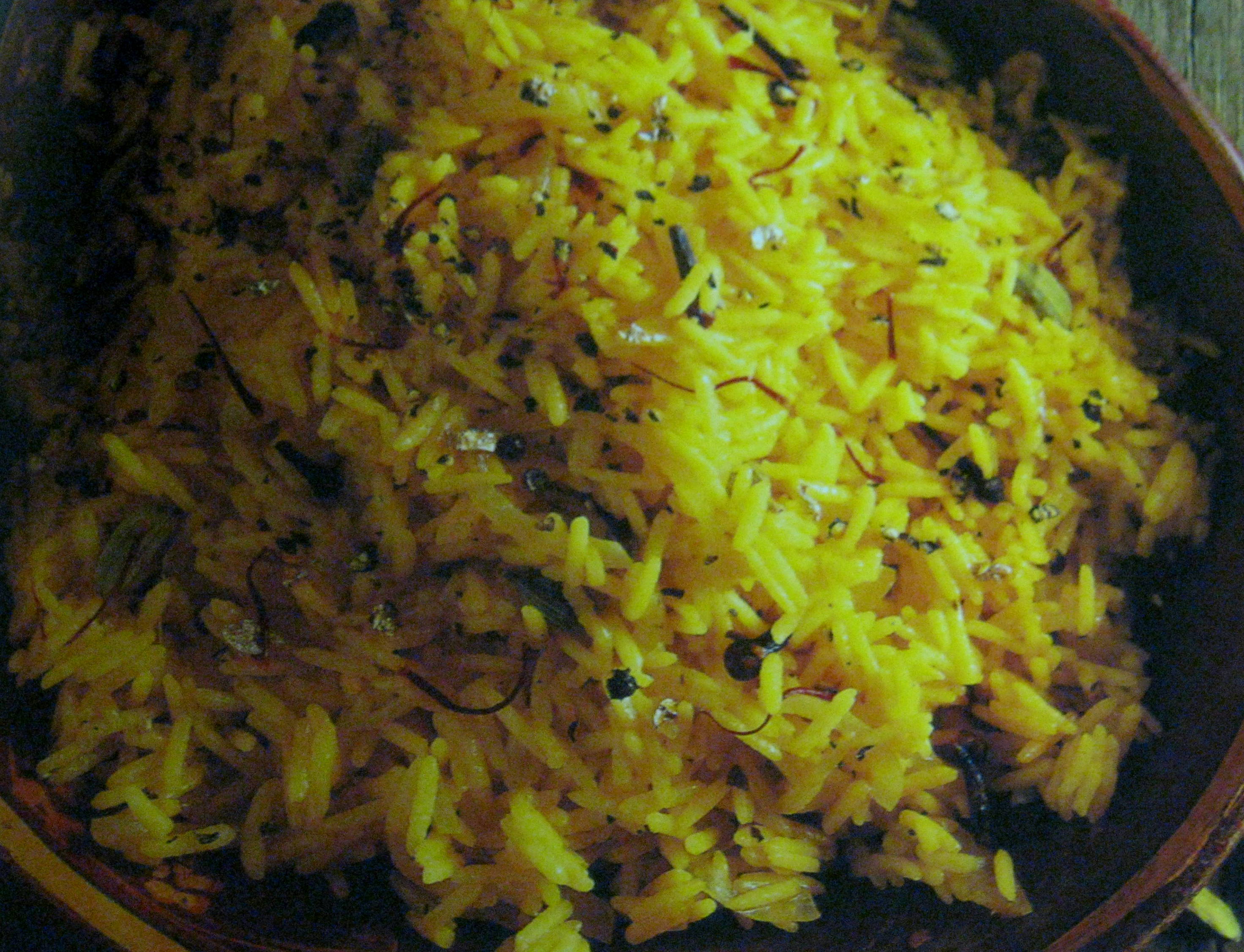 Ingredients
Saffron threads

1⁄2 Teaspoon

Boiling water

1 Tablespoon

Butter/Ghee

6 Ounce

(175 Gram)

Onions

2 Large

, sliced

Basmati rice/Patna rice

12 Ounce

(375 Gram)

Cloves

1 Teaspoon

Cardamoms

4

Salt

1 Teaspoon

Black pepper

1 Teaspoon

Water

1 1⁄4 Pint

(750 Milliliter)
Nutrition Facts
Serving size: Complete recipe
Calories 2740 Calories from Fat 1240
% Daily Value*
Total Fat 141 g217.4%
Saturated Fat 88.4 g441.8%
Trans Fat 0 g
Cholesterol 365.8 mg
Sodium 2010.3 mg83.8%
Total Carbohydrates 337 g112.4%
Dietary Fiber 17.3 g69.1%
Sugars 27 g
Protein 34 g67.6%
Vitamin A 85.8% Vitamin C 83.8%
Calcium 31.6% Iron 34.1%
*Based on a 2000 Calorie diet
Directions
MAKING
1) In a small bowl, soak the saffron threads in the boiling water for 30 minutes.
2) In a heavy-based saucepan, gently saute the ghee or butter for 4-5 minutes until softened.
3) Rinse the rice thoroughly in a sieve under cold running water, drain well.
4) Stir in the rice, cardamoms, cloves, salt and pepper and then saute for 3 minutes, stirring occasionally.
5) In a kettle, allow 750 ml / 1 1/4 pints water to boil, then pour into the pan alongwith the saffron and its soaking liquid.
6) Simmer on a low heat for 15-20 minutes until the rice is tender, drain well.

SERVING
7) Spoon the rice to a serving dish and serve immediately.