»

Recipes

»

Pasta
Saffron Pasta Recipe
Saffron Pasta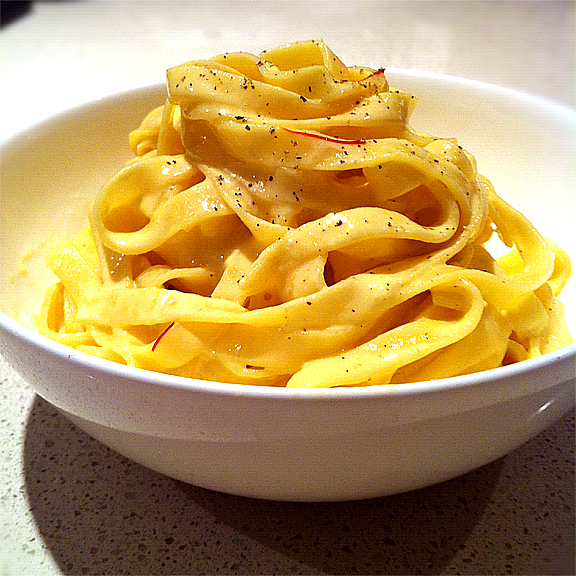 Ingredients
All purpose flour

300 Gram

Salt

To Taste

Saffron threads

1⁄2 Teaspoon

(Dissolved In 1 Teaspoon Warm Water)

Eggs

2

Oil

1 Tablespoon
Nutrition Facts
Serving size: Complete recipe
Calories 1375 Calories from Fat 248
% Daily Value*
Total Fat 28 g43.1%
Saturated Fat 5.6 g27.8%
Trans Fat 0 g
Cholesterol 423 mg
Sodium 537.3 mg22.4%
Total Carbohydrates 231 g77.1%
Dietary Fiber 8.2 g32.8%
Sugars 1.6 g
Protein 44 g87.7%
Vitamin A 10% Vitamin C 3.4%
Calcium 10.1% Iron 89.1%
*Based on a 2000 Calorie diet
Directions
Sift the flour and salt into a large bowl and make a well in the center.
Lightly beat the saffron liquid with the eggs and pour into the well.
Gradually draw the flour into the liquids using a fork.
Mix to a smooth paste, adding a little more warm water if necessary.
Turn the paste onto a well-floured surface and knead well for about 5 minutes until smooth, almost elastic and no longer sticky.
Wrap in a damp cloth and leave to "relax" for 30 minutes.
Roll out the dough on a well-floured surface, using a well-floured rolling pin, to about 15 inches square, turning it frequently to ensure that it does not stick.
Leave to dry out for about 10-20 minutes, until it begins to look leathery.
Fold the pasta in half, then in half again in the same direction.
Cut across the pasta with a sharp knife to make 1/4-inch wide strips.
Carefully unfold the strips, then leave to dry for a further 10-20 minutes.
Cook in a large saucepan of boiling salted water, to which the oil has been added, for 1-2 minutes until just tender.
Drain and rinse under hot running water.
Drain again well and serve hot.