»

Recipes

»

Cake

»

Rum Cake

»

Rum Cake A La Grecque
Rum Cake A La Grecque Recipe
Rum Cake A La Grecque is a delicious easy to prepare dessert recipe. I bet, once served at a party, you will get a lot of compliments for this Rum Cake A La Grecque.
Rum Cake A La Grecque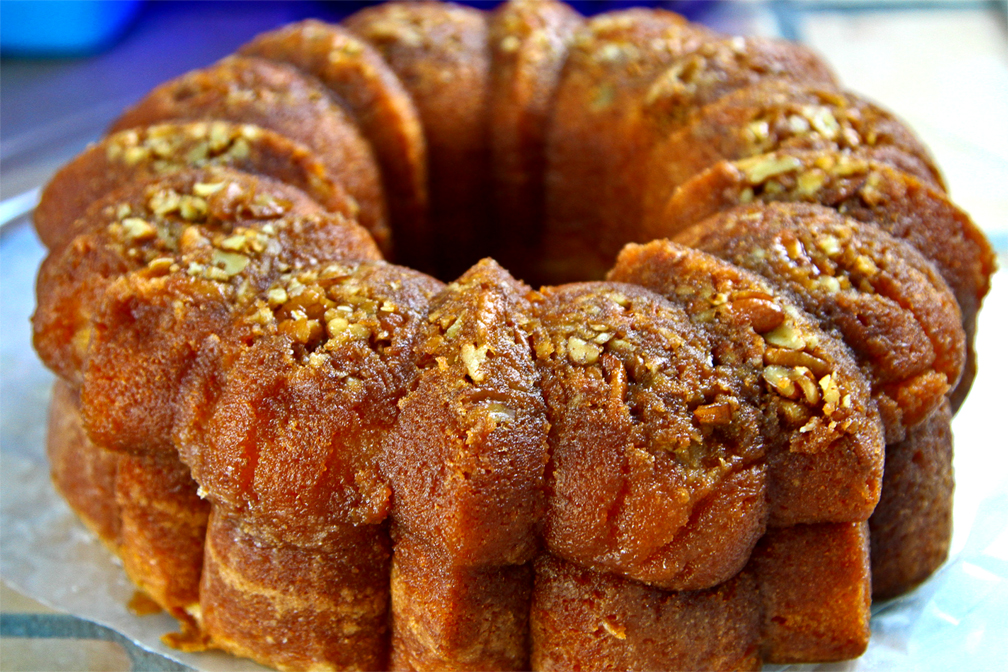 Ingredients
Eggs

10 Small

, separated

Rum flavoring/3 tablespoons rum

2 Teaspoon

Toasted blanched almonds

1 1⁄2 Cup (24 tbs)

, chopped

Sugar

1 Teaspoon

Cake flour

1⁄2 Cup (8 tbs)

Heavy cream

2 Cup (32 tbs)

, whipped

Baking powder

1 Tablespoon

Maraschino cherries

1⁄2 Cup (8 tbs)

Syrup

1 Tablespoon
Nutrition Facts
Serving size: Complete recipe
Calories 3727 Calories from Fat 2755
% Daily Value*
Total Fat 307 g472%
Saturated Fat 128.4 g641.8%
Trans Fat 0 g
Cholesterol 2264.9 mg
Sodium 1972.8 mg82.2%
Total Carbohydrates 165 g54.9%
Dietary Fiber 28.1 g112.4%
Sugars 43.8 g
Protein 104 g208.3%
Vitamin A 178.8% Vitamin C 4.8%
Calcium 207.3% Iron 84.6%
*Based on a 2000 Calorie diet
Directions
Beat egg yolks with the 1/2 cup sugar until thick and pale in color.
Fold in 1 cup of the chopped almonds.
Fold in flour mixed with baking powder.
Stir in rum flavoring or rum.
Beat egg whites until stiff but not dry and carefully fold into egg yolk batter.
Turn batter into a greased 8X12x2 inch pan and bake in a preheated 400 degree oven for about 30 minutes or until cake tests done.
Remove cake from oven and prick entire surface with a toothpick.
While cake is still hot, pour the hot syrup over it and cool.
When cool, fold the 1 teaspoon sugar into the whipped cream and frost cake lavishly.
Cut into 2 inch squares and sprinkle with remaining almonds.
Decorate with cherries.
Syrup: Combine 3 cups sugar, 2 1/2 cups water, and juice of 1/2 lemon.
Bring to a boil and boil for 10 minutes.
Then add 1 teaspoon rum flavoring or 1 tablespoon rum.