»

Recipes

»

Beef

»

Beef Rib

»

Royal Beef Ribs
Royal Beef Ribs Recipe
Baked Beef Ribs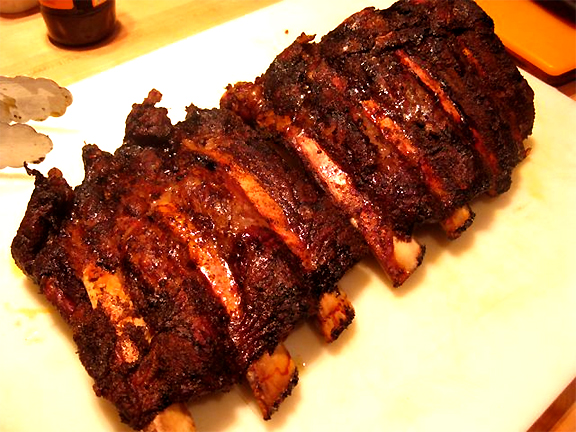 Ingredients
Onion

2 Tablespoon

, minced

Brown Sugar-1 tablespoon, packed

Monosodium glutamate

1 Teaspoon

Mustard seed

1 Tablespoon

Paprika

2 Teaspoon

Oregano

1 Teaspoon

, crushed

Chili powder

1 Teaspoon

Cracked Peppercorns- 1 teaspoon

Salt

1/2 Teaspoon

Ground cloves

1/2 Teaspoon

Bay leaf

1

Garlic

1 Clove (5gm)

, minced

Catsup

1 Cup (16 tbs)

Water

1/2 Cup (16 tbs)

Olive or Salad Oil- 1/4 cup

Tarragon Vinegar- 1/4 cup

Wine vinegar

2 Tablespoon

Worcestershire sauce

2 Tablespoon

Liquid Smoke- 2 or 3 drops

Short Ribs- 4 to 5 lb.
Directions
GETTING READY
1) In a saucepan, mix together all ingredients except ribs and stir well.
2) Heat the vinegar mixture and bring to a boil.
3) Lower the heat; simmer for 20 to 25 minutes, stirring occasionally.
4) Remove the bay leaf.

MAKING
5) Dredge the ribs with salt and place, the rib bone side down, on the grill away from coals.
6) Place the dampened hickory chips to the coals.
7) Grill the ribs for 3 hours.
8) While cooking baste the ribs several times with vinegar sauce.
9) Allow to cook the ribs for 30 minutes more, basting frequently.
10) Remove the ribs from the grill.

SERVING
11) Serve the ribs hot and garnish with scallions if desired.