»

Recipes

»

Chicken
Rotisserie Chicken Recipe
This is a great easy recipe that our family loves. It's perfect as the main dish of a simple meal with French fries and cole slaw."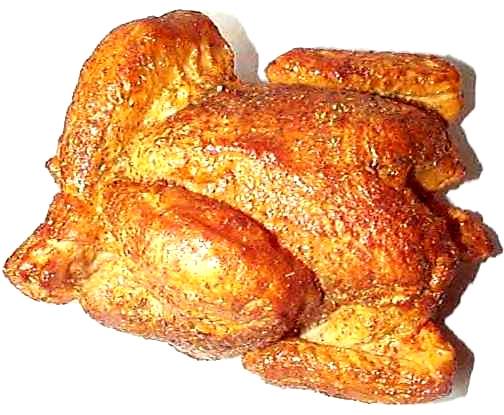 Ingredients
Whole chicken

3 Pound

Butter

1⁄4 Cup (4 tbs)

, melted

Salt

1 Tablespoon

Paprika

1 Tablespoon

Ground black pepper

1⁄4 Tablespoon
Nutrition Facts
Serving size
Calories 564 Calories from Fat 378
% Daily Value*
Total Fat 42 g64.8%
Saturated Fat 14.6 g73.2%
Trans Fat 0 g
Cholesterol 190.2 mg
Sodium 1129.9 mg47.1%
Total Carbohydrates 2 g0.6%
Dietary Fiber 1.1 g4.4%
Sugars 0.3 g
Protein 43 g85.4%
Vitamin A 37.4% Vitamin C 9.2%
Calcium 3.5% Iron 15.7%
*Based on a 2000 Calorie diet
Directions
Season the inside of the chicken with a pinch of salt. Place the chicken onto a rotisserie and set the grill on high. Cook for 10 minutes.
During that time, quickly mix together the butter, 1 tablespoon of salt, paprika and pepper. Turn the grill down to medium and baste the chicken with the butter mixture. Close the lid and cook for 1 to 1 1/2 hours, basting occasionally, until the internal temperature reaches 180 degrees F (83 degrees C) when taken in the thigh with a meat thermometer.
Remove from the rotisserie and let stand for 10 to 15 minutes before cutting into pieces and serving.