»

Recipes

»

Rosemary

»

Rosemary Roast Turkey
Rosemary Roast Turkey Recipe
This Rosemary Roast Turkey tastes amazing ! With delicious black pepper seasonings, this roasted turkey garnished with rosemary sprigs makes a delightful meal. Just try this Rosemary Roast Turkey and let me know if you like it !
Roasted Turkey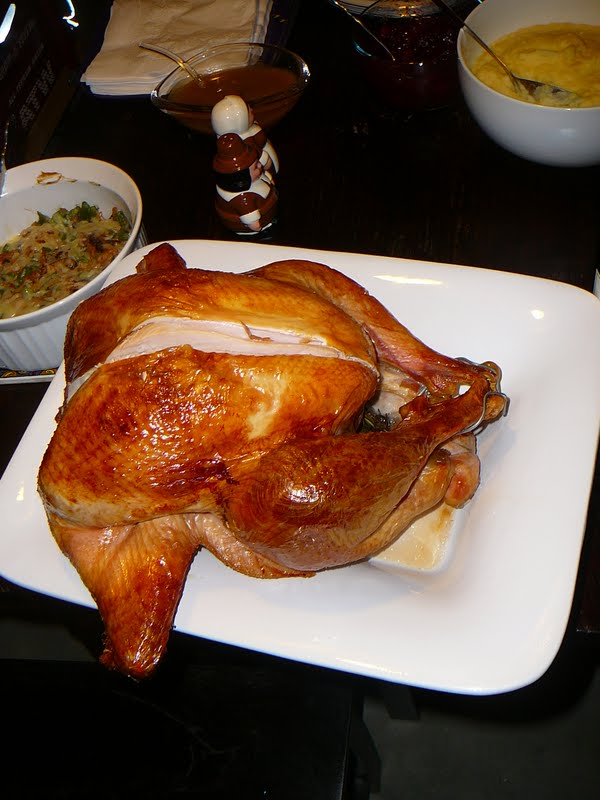 Ingredients
Turkey breast

1

(Fresh Or Frozen)

Dried rosemary leaves

1 1⁄2 Teaspoon

, crushed

Salt

1 Teaspoon

Coarsely ground black pepper

3⁄4 Teaspoon

Chicken broth

1 Cup (16 tbs)

Rosemary sprigs

1 Teaspoon

(To Garnish)
Nutrition Facts
Serving size: Complete recipe
Calories 1276 Calories from Fat 507
% Daily Value*
Total Fat 56 g86.6%
Saturated Fat 15.6 g78.1%
Trans Fat 0 g
Cholesterol 507 mg
Sodium 3008 mg125.3%
Total Carbohydrates 9 g3.1%
Dietary Fiber 4.9 g19.6%
Sugars 1.1 g
Protein 173 g345.5%
Vitamin A 8.8% Vitamin C 10.8%
Calcium 23.1% Iron 72.1%
*Based on a 2000 Calorie diet
Directions
Preheat oven to 350°F.
Rinse turkey breast with cold running water and drain well.
In cup, combine rosemary, salt, and pepper.
With hands, rub rosemary mixture all over turkey breast.
Place turkey breast in 13" by 9" roasting pan.
Cover pan loosely with foil.
Roast turkey breast 1 1/2 hours.
Remove foil.
Roast turkey breast 45 to 60 minutes longer, occasionally brushing breast with pan drippings.
Start checking turkey breast for doneness during last 30 minutes of cooking.
Turkey breast is done when thermometer inserted into breast (being careful that pointed end of thermometer does not touch bone) reaches 170°F.
When turkey breast is done, transfer to warm, large platter.
Let stand 10 minutes.
Meanwhile, pour chicken broth into drippings in hot roasting pan, stirring to loosen brown bits from bottom of pan.
Strain pan juice mixture into small saucepan; let stand 1 minute.
Skim fat and discard.
Reheat and serve pan juice mixture with turkey.
Remove skin from turkey before eating if you like.
Garnish with rosemary sprigs.