»

Recipes

»

French

»

Gratin

»

Root Vegetable Gratin
Root Vegetable Gratin Recipe
Use a mandoline to cut the vegetables into thin slices; they will turn tender when baked with chicken broth and a little cream.
Picture Credit: John Kernick
Recipe By: Melissa Rubel Jacobson
Pairing Notes: Lightly sweet root vegetables go great with fruity whites. Try a California Chenin Blanc.
For more recipes, please visit Foodandwine.com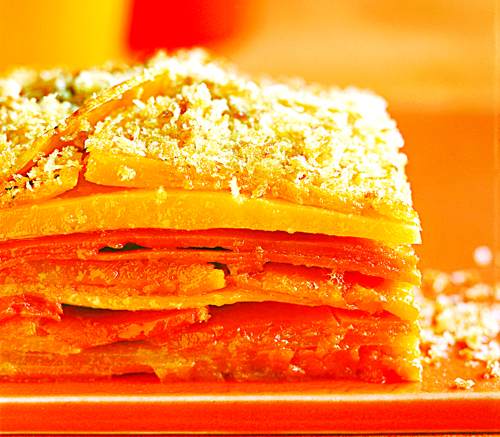 Summary
Health Index
Healthy
Servings
8
Ingredients
Sweet potatoes

2 Large

, peeled

Butternut squash neck

2 1⁄4 Pound

, peeled (From A Large Butternut Squash)

Rutabaga

2 Pound

, peeled and halved lengthwise (1 Medium Size)

Kosher salt

To Taste

Freshly ground pepper

To Taste

Low sodium chicken broth

1⁄2 Cup (8 tbs)

Heavy cream

1⁄4 Cup (4 tbs)

Panko

3⁄4 Cup (12 tbs)

(Japanese Bread Crumbs)

Extra virgin olive oil

1 1⁄2 Tablespoon
Nutrition Facts
Serving size
Calories 208 Calories from Fat 56
% Daily Value*
Total Fat 6 g9.6%
Saturated Fat 2 g10.1%
Trans Fat 0 g
Cholesterol 10.3 mg
Sodium 121.1 mg5%
Total Carbohydrates 36 g12.1%
Dietary Fiber 6.8 g27%
Sugars 11 g
Protein 5 g9.1%
Vitamin A 379.9% Vitamin C 93.5%
Calcium 13.2% Iron 9.9%
*Based on a 2000 Calorie diet
Directions
1. Preheat the oven to 375°. Using a mandoline, slice the potatoes and squash lengthwise 1/8 inch thick. Slice the rutabaga crosswise 1/8 inch thick.
2. Spray an 8-by-12-inch glass baking dish with cooking spray. Arrange half of the potatoes in the dish, overlapping them slightly; season with salt and pepper. Top with half of the rutabaga and the squash, seasoning each layer. Repeat the layering. Pour the broth over and around the vegetables.
3. Cover tightly with foil and bake for 1 hour, until the vegetables are almost tender when pierced. Remove the foil and pour the cream over the gratin. Bake for about 30 minutes longer, until the liquid has thickened.
4. Preheat the broiler. Mix the panko with the oil and season with salt and pepper; sprinkle over the gratin. Broil 3 inches from the heat for 2 minutes, until golden, rotating for even browning. Let the gratin stand for 10 minutes, then serve.