»

Recipes

»

Sugar

»

Sugar

»

Rolled Sugar Cookies
Rolled Sugar Cookies Recipe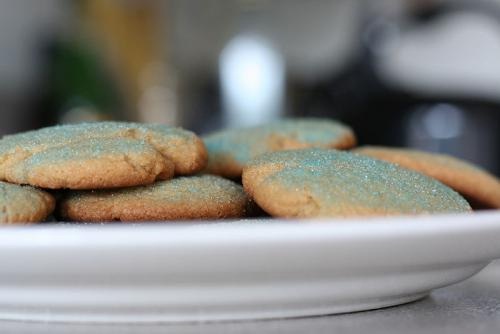 Ingredients
Sugar

1⁄2 Cup (8 tbs)

Butter

1 Stick

, softened

Egg

1

Vanilla extract

1 Teaspoon

Flour

1 1⁄2 Cup (24 tbs)

Baking powder

1⁄2 Teaspoon

Salt

1⁄2 Teaspoon
Nutrition Facts
Serving size: Complete recipe
Calories 1157 Calories from Fat 60
% Daily Value*
Total Fat 7 g10.5%
Saturated Fat 1.8 g9.2%
Trans Fat 0 g
Cholesterol 211.5 mg
Sodium 1240.5 mg51.7%
Total Carbohydrates 245 g81.6%
Dietary Fiber 5.1 g20.3%
Sugars 101.4 g
Protein 26 g51.3%
Vitamin A 4.9% Vitamin C
Calcium 24.1% Iron 55.1%
*Based on a 2000 Calorie diet
Directions
1. In a medium bowl, beat sugar and butter with an electric mixer on medium speed until well blended. Beat in egg and vanilla until light and flurry.
2. On low speed, beat in flour mixed with baking powder and salt until dough is smooth, scraping down side of bowl frequently with a rubber spatula. Wrap and refrigerate dough 2 to 3 hours, until firm.
3. Preheat oven to 350°F. Between pieces of wax paper, roll out dough 1/4 inch thick. Cut out cookies with 2-inch cutters. Reroll scraps to make additional cookies.
4. Arrange cookies 2 inches apart on lightly greased cookie sheets. Bake 10 to 12 minutes, or until edges are golden brown. Let cookies cool 2 minutes on sheets, then remove to racks and let cool completely. Store in a tightly covered container.