»

Recipes

»

Poultry

»

Hen

»

Rock Cornish Hens With Onion-Rice Stuffing
Rock Cornish Hens With Onion-Rice Stuffing Recipe
Rock Cornish hens with tasty onion and rice stuffing makes mouth water. This dish is alone capable of making a complete meal. I have enjoyed it every time I made rock Cornish hens with onion and rice stuffing and needs to side dishes at all.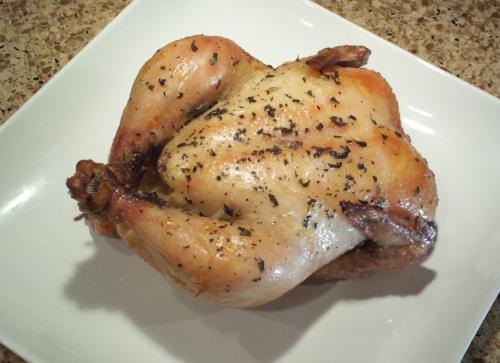 Ingredients
Rice

1 Cup (16 tbs)

Celery

2/3 Cup (16 tbs)

, chopped

Butter or margarine-as needed

Parsley flakes

2 Tablespoon

Onion salt-1 3/4 teaspoons

Pepper

1/4 Teaspoon

French-fried onion rings-1 can

Rock Cornish hens-3

Salt

1 To taste
Directions
MAKING
1)Prepare rice as per package directions.
2)In a pan, heat 6 tablespoons butter and sauté celery.
3)In a bowl, mix together rice, celery, parsley flakes, onion salt, pepper and onion rings.
4)Season the hens with salt and fill the rice mixture.
5)Secure neck and body openings.
6)Take a roasting pan and put the hens. Brush with butter nicely.
7)Bake at 325 degrees for 1 hour and 30 minutes or until tender. Keep basting with butter if needed.

SERVING
8)Serve the rock Cornish hen with onion-rice stuffing immediately.