»

Recipes

»

Italian

»

Pesto

»

Roasted Tomato And Pesto Bread Stew
Roasted Tomato and Pesto Bread Stew Recipe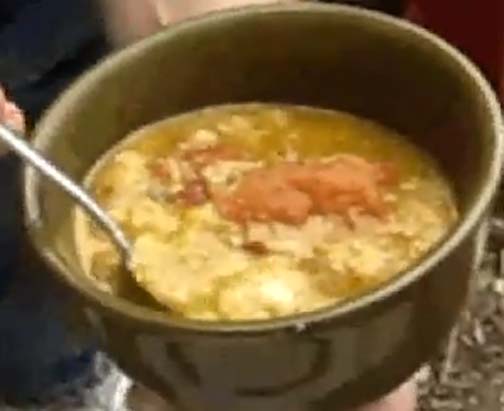 Ingredients
Chicken stock

4 Cup (64 tbs)

Tomatoes

6 Large

, halved

Fresh basil leaves

2 Cup (32 tbs)

Pine nuts/Walnuts

2 Ounce

Parmesan cheese

2 Tablespoon

Italian bread loaf

1

Olive oil

1 Tablespoon

Salt

To Taste

Ground pepper

To Taste
Nutrition Facts
Serving size: Complete recipe
Calories 2000 Calories from Fat 741
% Daily Value*
Total Fat 86 g132.4%
Saturated Fat 15.8 g78.8%
Trans Fat 0 g
Cholesterol 49.2 mg
Sodium 4051.1 mg168.8%
Total Carbohydrates 237 g79%
Dietary Fiber 24.3 g97.3%
Sugars 48.8 g
Protein 80 g160.6%
Vitamin A 235.9% Vitamin C 249.8%
Calcium 82.6% Iron 105.9%
*Based on a 2000 Calorie diet
Directions
In oven, place top rack in upper third of the oven. Preheat oven
to 400 degrees. Place tomato halves (skin side down) on large
baking sheet. Drizzle with olive oil. Sprinkle with ample
amounts of salt and pepper. Place on top rack in oven, roast for
30 - 40 minutes, or until fully cooked. Remove and cool.
Make pesto by placing basil leaves in blender or food
processor, followed by pine nuts and olive oil, puree. Blend in
Parmesan cheese and salt and pepper to taste. Set aside.
Bring chicken stock to boil in large sauce pan or Dutch oven.
When tomatoes have cooled enough to handle, use a spoon to
scoop tomato from skins and into broth. Discard skins.
Stir pesto to tomato / broth mixture, bring to boil. Tear bread
into small pieces and add to broth. Stir well until bread has
mostly dissolved into broth.
This video is a creation of maninthekitchen. You can visit
maninthekitchen
for complete recipes, and more videos.