»

Recipes

»

Pumpkin

»

Roasted Pumpkin Seed Threeway
Roasted Pumpkin Seed Threeway Recipe
Roasted pumpkin seeds happen to be one of my favorite examples of addressing food waste. While the meat of the pumpkin itself is not used, the whole gourd doesn't have to be just for decor. It not only provides decoration but also a fun and tasty snack too. Well, fun if you like running your hands through slimy pumpkin guts!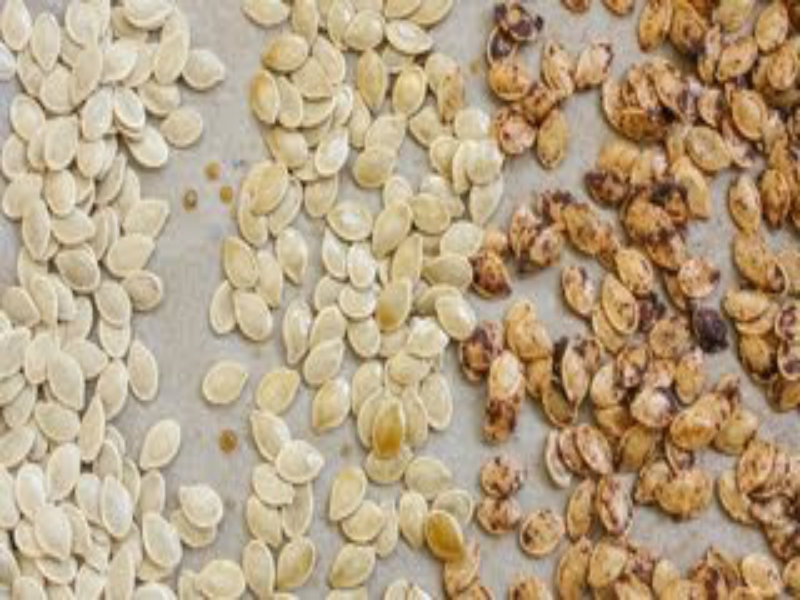 Ingredients
For coffee and chili flavored pumpkin seeds

Raw pumpkin seeds

1 Cup (16 tbs)

Olive oil

1 Teaspoon

Chili powder

1 Teaspoon

Finely ground coffee

1 Teaspoon

Sugar

1 Teaspoon

Sea salt

1 Teaspoon

For maple and sea salt flavored pumpkin seeds

Maple syrup

1 Tablespoon

Brown sugar

1 Teaspoon
Nutrition Facts
Serving size
Calories 119 Calories from Fat 43
% Daily Value*
Total Fat 5 g7.9%
Saturated Fat 0.93 g4.6%
Trans Fat 0 g
Cholesterol 0 mg
Sodium 268.6 mg11.2%
Total Carbohydrates 15 g5.1%
Dietary Fiber 0.29 g1.1%
Sugars 3.2 g
Protein 4 g8.2%
Vitamin A 5.2% Vitamin C 1%
Calcium 1.6% Iron 4.8%
*Based on a 2000 Calorie diet
Directions
GETTING READY
1. In a sauce pan, place the seeds with just enough water to cover, adding 1 tablespoon of salt for every cup of pumpkin seeds.
2. Bring it to a boil and let them simmer for about five minutes.
3. Strain the seeds and let them completely dry.
4. Pre heat the oven to 375 degrees.
MAKING
5. For the Coffee and Chili Flavored Pumpkin Seeds: Mix the raw pumpkin seeds with the olive oil, chili powder, coffee, sugar and sea salt.
6. For the Maple and Sea Salt Flavored Pumpkin Seeds: Mix the raw pumpkin seeds with the maple syrup, brown sugar and sea salt.
7. For the Salted Pumpkin seeds: Mix the raw pumpkin seeds with the olive oil and sea salt.
8. Line a large baking sheet with parchment paper, and while keeping the flavored seeds separated, spread them out into a single layer.
9. Roast them at 375 degrees for about 20 minutes, or until the salted seeds just begin to look toasted. Don't let them burn.
SERVING
10. Serve as an anytime snack.
Recipe Courtesy of:
cookingstoned.tv