»

Recipes

»

Salad

»

Roasted Persimmon & Brie Salad
Roasted Persimmon & Brie Salad Recipe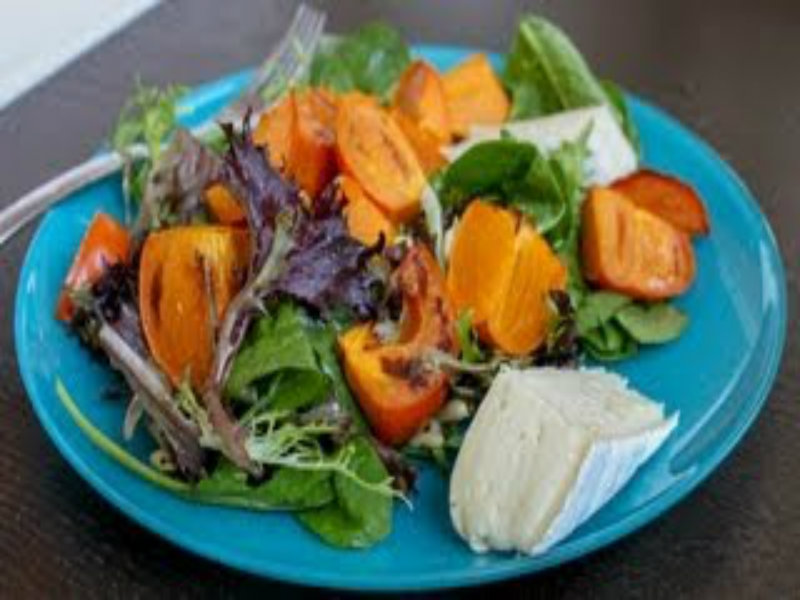 Ingredients
Persimmons

2

(Fuyu persimmon)

Brie

1 Ounce

(preferably triple cream)

Mixed greens

2 Cup (32 tbs)

Pine nuts

1⁄8 Cup (2 tbs)

Sea salt

To Taste

Pepper

To Taste

Extra virgin olive oil

1 Tablespoon
Nutrition Facts
Serving size: Complete recipe
Calories 573 Calories from Fat 309
% Daily Value*
Total Fat 35 g53.6%
Saturated Fat 6.9 g34.4%
Trans Fat 0 g
Cholesterol 28.4 mg
Sodium 543.5 mg22.6%
Total Carbohydrates 58 g19.4%
Dietary Fiber 13.4 g53.4%
Sugars 35.3 g
Protein 13 g25.2%
Vitamin A 185.5% Vitamin C 40.9%
Calcium 16.9% Iron 13.4%
*Based on a 2000 Calorie diet
Directions
GETTING READY
1. Pre heat the oven to 400 degrees F.
2. Prepare the persimmons by trimming, quartering and removing the seeds.
MAKING
3. On a baking sheet, place the persimmons and bake for about 40 minutes, turning them over at half time.
4. In a large mixing bowl, add the mixed greens, pine nuts and olive oil, just enough to lightly coat the leaves.
5. Season with salt and pepper and toss the salad.
6. Remove the persimmons from the oven and when done let them cool slightly.
SERVING
5. Plate the greens with the brie and top the salad with the roasted persimmons and serve right away.
Recipe Courtesy of:
cookingstoned.tv