»

Recipes

»

Mexican

»

Roasted Apricot Margarita Made With Beer
Roasted Apricot Margarita Made with Beer Recipe
Did you know that you can pretty much use beer anywhere a cocktail calls for soda water. American IPAs go great with tequila which is how The Beer Wench came up with this beer cocktail.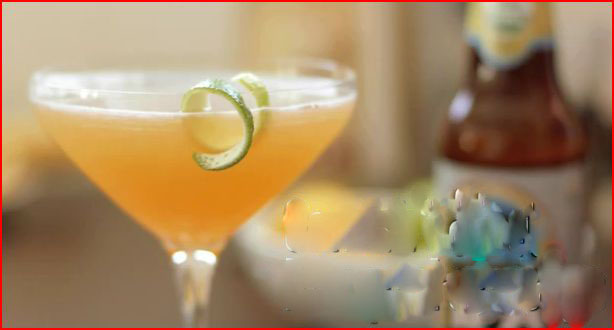 Ingredients
Beer

3 Ounce

(American IPA)

Apricot jam

1⁄2 Ounce

Lime juice

1 Ounce

Lemon juice

1 Ounce

Tequila

1 1⁄2 Ounce

Ice cube

1 Cup (16 tbs)
Nutrition Facts
Serving size: Complete recipe
Calories 133 Calories from Fat 1
% Daily Value*
Total Fat 0.06 g0.1%
Saturated Fat 0.01 g0.04%
Trans Fat 0 g
Cholesterol 0 mg
Sodium 28.5 mg1.2%
Total Carbohydrates 22 g7.3%
Dietary Fiber 0.23 g0.91%
Sugars 9.7 g
Protein 0.75 g1.5%
Vitamin A 1.2% Vitamin C 49.6%
Calcium 0.9% Iron 0.33%
*Based on a 2000 Calorie diet
Directions
GETTING READY
1. Take a stemmed cocktail glass.
MAKING
2. In a cocktail shaker, take apricot jam.
3. Squeeze in the required amounts of lime and lemon juice.
4. Pour in the tequila.
5. Add the ice.
6. Give it a shake and strain into the glass.
7. Top it with the bubbly beer.
SERVING
8. Garnish with a citrus peel or wedge.
Recipe Courtesy of:
cookingstoned.tv