»

Recipes

»

Goose

»

Roast Stuffed Goose
Roast Stuffed Goose Recipe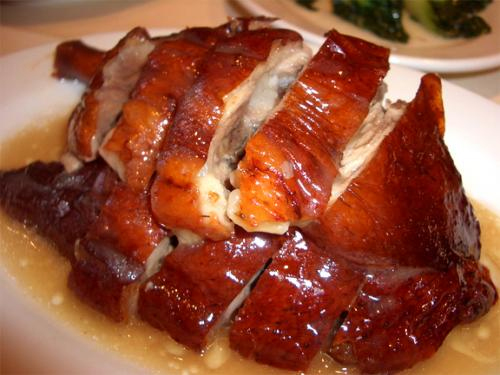 Ingredients
Oven ready goose

12 Ounce

(1 Goose)

Freshly ground black pepper

2 Tablespoon

Dried bread crumbs

1 Cup (16 tbs)

Crab apples

6 Small

Pears

3

, peeled, cored, and coarsely chopped

Raisins

1 Cup (16 tbs)

Chopped parsley

1 Tablespoon

Mustard

1⁄2 Cup (8 tbs)

Salt

To Taste

Cayenne pepper

1 Tablespoon

Potatoes

1⁄2 Pound

, cooked and mashed

Leftover chopped meat with peas/Chicken /goose giblets, chopped

1⁄2 Cup (8 tbs)

(Kashmiri Style)
Nutrition Facts
Serving size
Calories 146 Calories from Fat 66
% Daily Value*
Total Fat 7 g11.4%
Saturated Fat 1.9 g9.4%
Trans Fat 0 g
Cholesterol 13.9 mg
Sodium 60.4 mg2.5%
Total Carbohydrates 16 g5.4%
Dietary Fiber 2.5 g10.1%
Sugars 7 g
Protein 5 g10.5%
Vitamin A 6.7% Vitamin C 9.6%
Calcium 4.9% Iron 9.9%
*Based on a 2000 Calorie diet
Directions
Heat the oven to 325°F.
In a large bowl, combine all the stuffing ingredients.
Wash the goose thoroughly, dry it, and weigh it.
Salt the inside, fill it with stuffing, and place it on a rack or trivet in a large roasting pan.
Prick the goose over the breast and legs.
Sprinkle lots of ground black pepper over the goose.
Roast for 20-25 minutes a pound, checking from time to time to spoon off the excess melted fat.
(Cool, then refrigerate this superbly flavored fat to use in cooking other dishes.) Serve the goose and stuffing with roast potatoes and Dressed Green Salad.