»

Recipes

»

Pork

»

Roast Loin Of Pork
Roast Loin Of Pork Recipe
Roast Loin Of Pork is an easy to prepare side dish recipe which cannot just escape your guest's attention. Try this amazingly delicious Roast Loin Of Pork, you will surely love to talk about with us.
Roast Loin Of Pork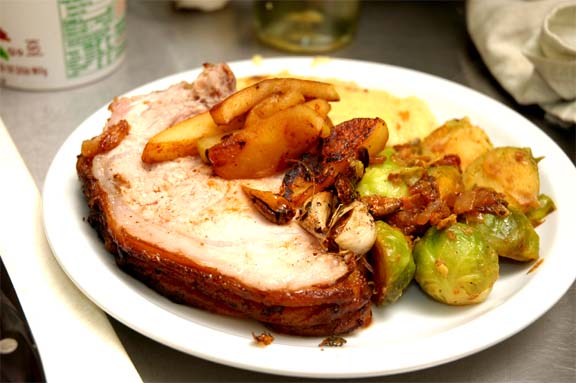 Ingredients
Loin pork

4 Pound

, boned

Slivered garlic

2 Tablespoon

Salt

1 Teaspoon

Ground pepper

1⁄4 Teaspoon

Potatoes

8 Medium

, peeled and halved

Pineapples a l' orly

1⁄2 Cup (8 tbs)

Carrot

1

, saute

Apple

1

, saute
Nutrition Facts
Serving size: Complete recipe
Calories 4637 Calories from Fat 1937
% Daily Value*
Total Fat 226 g347.7%
Saturated Fat 72.5 g362.4%
Trans Fat 0 g
Cholesterol 1040 mg
Sodium 4311.4 mg179.6%
Total Carbohydrates 324 g108%
Dietary Fiber 38.4 g153.6%
Sugars 41.4 g
Protein 352 g703.2%
Vitamin A 207.5% Vitamin C 610.3%
Calcium 59.2% Iron 157.7%
*Based on a 2000 Calorie diet
Directions
Preheat oven to 350 degrees.
With a sharp knife, make shallow slits in the meat and insert garlic.
Rub the roast with a mixture of salt and pepper.
Place the meat on a rack in a shallow roasting pan.
Pour in about 1/4 cup water.
Surround the meat with the potatoes.
Turn the potatoes occasionally during the cooking process to help brown them.
Roast the meat until cooked through, about 40 minutes to the pound or until internal temperature of the meat registers about 170 degrees.
When the roast is done, allow it to sit 10 to 15 minutes before carving.