»

Recipes

»

Lobster

»

Roast Lobster
Roast Lobster Recipe
Roast Lobster is a delicious and extremely easy to make dish. I served this unique dish for dinner when a friend came over and she still talks about how she enjoyed it. Try this easy Roast Lobster recipe.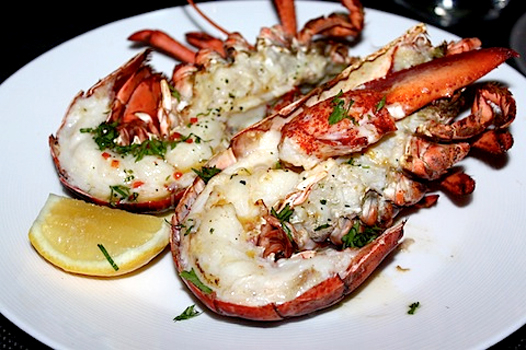 Ingredients
| | | |
| --- | --- | --- |
| | Live lobster | 2 Pound |
| | Olive oil | 1 Tablespoon |
Nutrition Facts
Serving size: Complete recipe
Calories 949 Calories from Fat 206
% Daily Value*
Total Fat 23 g35.6%
Saturated Fat 3.7 g18.5%
Trans Fat 0 g
Cholesterol 861.8 mg
Sodium 2685.7 mg111.9%
Total Carbohydrates 5 g1.5%
Dietary Fiber 0 g
Sugars 0 g
Protein 171 g341.1%
Vitamin A 12.7% Vitamin C
Calcium 43.6% Iron 15.6%
*Based on a 2000 Calorie diet
Directions
Kill the lobster by plunging a skewer into the cross on the head.
Paint the shell with olive oil.
Wrap in aluminum foil and bake in a moderate oven (350°) for 25 minutes.
Leave wrapped in the aluminum foil till quite cold.
This must be eaten cold.
If you try to crack the shell with the soft, hot meat inside it will all squelch out on you.