»

Recipes

»

Lamb

»

Lamb Leg

»

Roast Leg Of Lamb In A Crust
Roast Leg Of Lamb In A Crust Recipe
Roast Leg Of Lamb In A Crust is a wonderful and filling dish that will fit into any meal plan. The yummy Roast Leg Of Lamb In A Crust is a delight to eat because of its memorable signature taste. Here is a fantastic Roast Leg Of Lamb In A Crust recipe.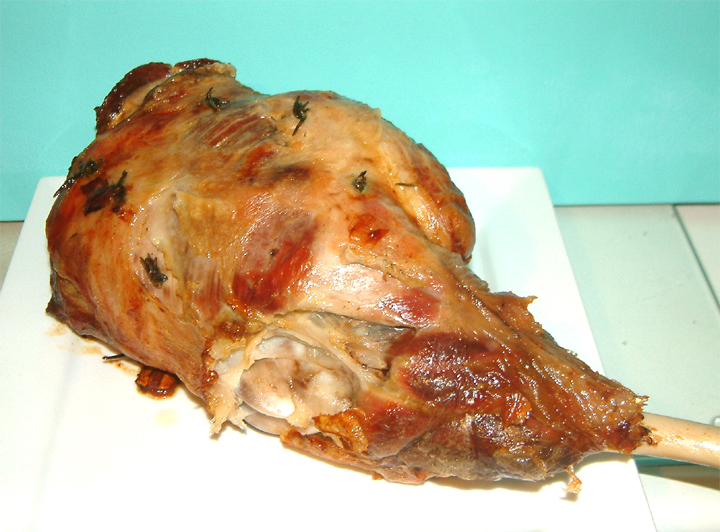 Ingredients
Leg of lamb

6 Pound

Cold water

1 1⁄2 Cup (24 tbs)

Garlic

1 Clove (5 gm)

, crushed

Butter

1 Tablespoon

Flour

5 Cup (80 tbs)
Nutrition Facts
Serving size: Complete recipe
Calories 7425 Calories from Fat 2982
% Daily Value*
Total Fat 331 g509.7%
Saturated Fat 141.5 g707.5%
Trans Fat 0 g
Cholesterol 1855.7 mg
Sodium 1607.9 mg67%
Total Carbohydrates 479 g159.5%
Dietary Fiber 17 g67.9%
Sugars 1.7 g
Protein 582 g1163.5%
Vitamin A 7.5% Vitamin C 2.6%
Calcium 30.8% Iron 423.2%
*Based on a 2000 Calorie diet
Directions
Rub the joint with the crushed garlic.
Make a stiff paste of the flour and water.
Roll this out and cover the leg completely with the paste.
Put it into an ungreased roasting pan and bake at 350°, allowing 25 minutes to the pound.
Reduce heat if crust browns too fast.
Crack the paste and discard.
Put the joint back in the oven, well painted with soft butter, and bake until lightly browned.