»

Recipes

»

Asian

»

Oriental

»

Oriental Duck Roast
Oriental Duck Roast Recipe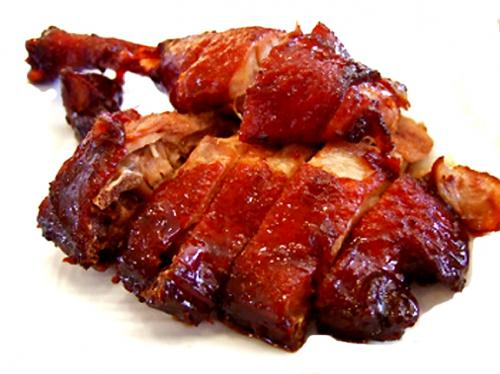 Ingredients
Duckling

4 Pound

(Ready To Cook)

Soy sauce

2 Tablespoon

Sugar

1 Tablespoon

Pumpkin pie spice

1 Tablespoon

Anise

1 Teaspoon

Ground ginger

1⁄2 Teaspoon

Water

1 Cup (16 tbs)

(Boiling)

Romaine

4 Cup (64 tbs)

, shredded
Nutrition Facts
Serving size
Calories 321 Calories from Fat 150
% Daily Value*
Total Fat 17 g25.7%
Saturated Fat 4.5 g22.6%
Trans Fat 0 g
Cholesterol 205.6 mg
Sodium 270 mg11.3%
Total Carbohydrates 3 g1.1%
Dietary Fiber 0.64 g2.6%
Sugars 1.6 g
Protein 38 g75.1%
Vitamin A 29.1% Vitamin C 14.4%
Calcium 3% Iron 30.9%
*Based on a 2000 Calorie diet
Directions
GROUND-WORK
Wash and clean the ducklings from inside and out using cold water. Dry properly.
Season some salt and lemon juice into cavities. Smooth neck skin over back, then twist wing tips until they rest flat against sides.

MAKING
Add into cavities in ducklings, packing in lightly. Lace opening together with poultry pins or skewers and string.
Place ducklings on a rack in a shallow roasting pan. Do not add any water or cover pan.
Roast in slow oven 1 1/2 hours; pour all drippings from pan.
In a small saucepan, mix the remaining 1/4 cup melted butter or margarine with soy sauce and honey. Heat and start stirring constantly, to boiling. Brush part over ducklings.
Keep on roasting, brushing with remaining soy mixture every 15 minutes, 1 hour, or until a drumstick moves easily and ducklings are richly golden.

SERVING
Take a large serving platter and transfer ducklings into it.
Cut with kitchen scissors and serve hot.