»

Recipes

»

Greek

»

Roast Country Duckling
Roast Country Duckling Recipe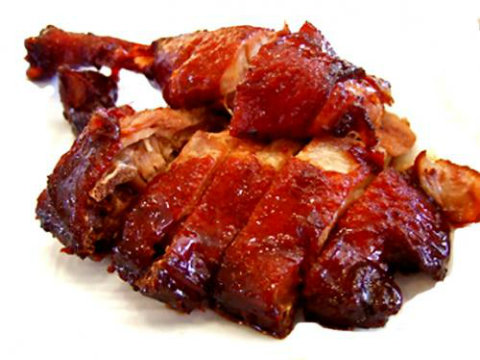 Ingredients
Oil

2 Cup (32 tbs)

Butter

4 Tablespoon

(1/2 Stick)

Ducks

10 Pound

, fat trimmed from neck and tail (2 Ducks, 4 To 5 Pound Each)

Onion salt

To Taste

Garlic salt

To Taste

Salt

To Taste

Freshly ground pepper

To Taste

Fresh orange juice

1 1⁄2 Cup (24 tbs)

Honey

1 Cup (16 tbs)

Soy sauce

1 1⁄2 Teaspoon

Cinnamon

3⁄4 Teaspoon

Ground cloves

1 Pinch

Orange slices

4

(For Garnish)

Parsley sprigs

1 Tablespoon

(For Garnish)
Nutrition Facts
Serving size: Complete recipe
Calories 11659 Calories from Fat 7047
% Daily Value*
Total Fat 783 g1205.2%
Saturated Fat 265.3 g1326.7%
Trans Fat 0 g
Cholesterol 3757.7 mg
Sodium 4001.3 mg166.7%
Total Carbohydrates 334 g111.4%
Dietary Fiber 4.4 g17.4%
Sugars 305.7 g
Protein 794 g1587.1%
Vitamin A 138.6% Vitamin C 520.4%
Calcium 33.5% Iron 1067.2%
*Based on a 2000 Calorie diet
Directions
Preheat oven to 375°F.
Pour oil into large roasting pan to depth of 1/2 inch.
Set aside.
Rub 2 tablespoons butter into cavity of each duck.
Season cavities with onion salt, garlic salt and salt and pepper.
Add 1/2 cup orange juice to roasting pan.
Set ducks in pan breast side up.
Cover and roast 1 hour.
Uncover, turn ducks over and continue roasting for 30 minutes.
Turn breast side up and roast for another 30 minutes.
Transfer ducks to serving platter and let cool at room temperature.
(Can be prepared ahead and refrigerated.) Preheat oven to 450°F.
Slice through breastbone of each duck, peel meat back from rib cage and remove ribs, retaining leg and wing bones.
Split ducks in half.
Combine remaining orange juice, honey, soy sauce, cinnamon and cloves in large saucepan over medium heat.
Add duck halves to sauce, turning to coat well.
Bring mixture to boil.
Remove ducks from sauce and arrange in roasting pan skin side up.
Roast 10 minutes to brown.
Return ducks to platter.
Garnish with orange slices and parsley.