»

Recipes

»

Beef

»

Roast Beef Au Jus
Roast Beef Au Jus Recipe
I am on High Protein diet and if you are doing the same then its advisable for you to include this recipe of Roast Beef Au Jus in your diet for sure. Use the freshest of beef available to get a delicious Roast Beef Au Jus. If your diet is full of High Protein recipes then also include Roast Beef Au Jus in it. The first taste of this delightful Roast Beef Au Jus from the French cuisine is enough to addict you to it for life! Try this Roast Beef Au Jus once and only once! Your loyalty to it forever is guaranteed!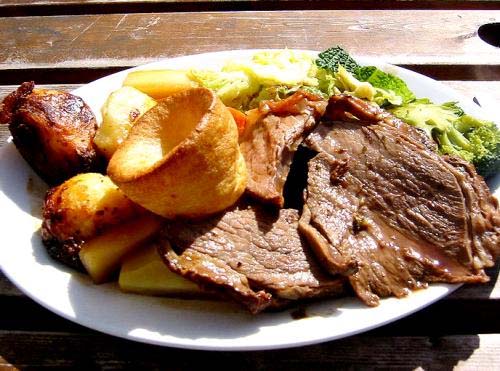 Ingredients
4- to 5-lb lb sirloin roast

2 tsp each, dry mustard and Worcestershire sauce

Garlic powder

Beef bouillon or stock

Black pepper salt

1 To taste
Directions
To protect the undercut (tenderloin) of the roast from cooking too quickly or drying out arrange fat bacon slices or sliced fresh pork fat over this section and tie in place with twine.
Arrange roast fat-side up in a shallow roast pan and spread lean surfaces with a mixture of mustard and Worcestershire sauce.
Sprinkle with garlic powder and roast at 325F about 20 to 25 minutes per pound for rare (140F); 25 to 30 minutes for medium (160F); 30 to 35 minutes for well done (170F).
Keep warm for 20 minutes or so before carving.
Scrape meat drippings into a small skillet and skim off the fat.
Measure drippings and add half as much bouillon.
Simmer until slightly reduced in quantity.
Taste and season if necessary.
Just before serving, add the juices collected in the meat platter; pour into a warm sauce boat.