»

Recipes

»

Risotto

»

Risotto A La Ratto
Risotto A La Ratto Recipe
Risotto A La Ratto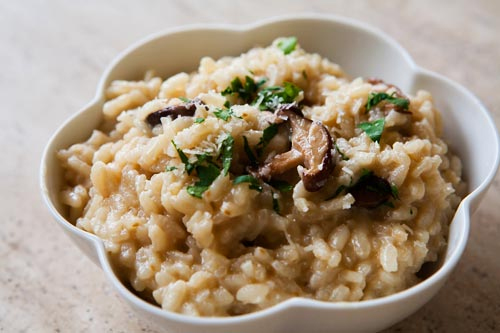 Summary
Preparation Time
5 Min
Cooking Time
30 Min
Ready In
35 Min
Difficulty Level
Easy
Ingredients
Yellow onion

1 Small

, chopped

Butter/Margarine

2 Tablespoon

White rice

1 Cup (16 tbs)

, uncooked

Chicken broth

4 Cup (64 tbs)

Button mushrooms

4 Ounce

(1 Can)

Salt

To Taste

Saffron

1⁄2 Teaspoon

Grated parmesan

1⁄2 Cup (8 tbs)

, grated
Nutrition Facts
Serving size: Complete recipe
Calories 1250 Calories from Fat 384
% Daily Value*
Total Fat 44 g67.3%
Saturated Fat 26.5 g132.5%
Trans Fat 0 g
Cholesterol 119.4 mg
Sodium 3780.2 mg157.5%
Total Carbohydrates 165 g54.9%
Dietary Fiber 6.7 g26.9%
Sugars 6.7 g
Protein 45 g89.9%
Vitamin A 20.8% Vitamin C 7.3%
Calcium 72.6% Iron 24.3%
*Based on a 2000 Calorie diet
Directions
Saute onion in butter until transparent but not brown.
Add rice and stir until each grain is coated with the butter.
Add 1 cup boiling chicken broth and cook over low fire, stirring frequently, until rice has absorbed liquid.
Repeat process with remaining broth, adding 1 cup at a time as rice absorbs it. (This will take about 20 minutes.)
Add mushrooms and salt, then stir in saffron which has been dissolved in 1 tablespoon hot water or broth.
Cook 5 minutes longer.
Blend in the grated cheese, and serve at once.