»

Recipes

»

Fusion

»

Ripe Olive Meat Loaf
Ripe Olive Meat Loaf Recipe
Are you looking for a yummmm Ripe Olive Meat Loaf recipe? Then you are in luck! Ripe Olive Meat Loaf as a Side Dish never fails to impress. A delicious Ripe Olive Meat Loaf gets its taste from meatloaf. Don't think much before including Ripe Olive Meat Loaf in your diet if you are following a High Protein diet. Now won't you thank me for sharing this Ripe Olive Meat Loaf recipe.
Olive Meatloaf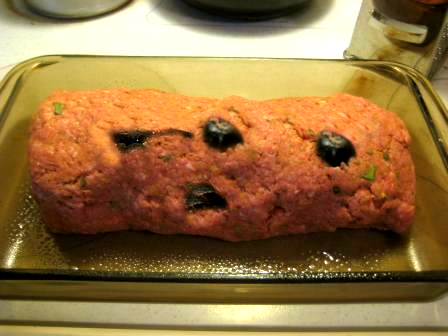 Ingredients
Cabbage

7 Medium

1 No. 7 can pitted ripe olives

Ground beef

1 1/2 Pound

Onions

1/4 Cup (16 tbs)

, minced

Salt

1 3/4 Teaspoon

Egg

1

, beaten

Pepper

1/4 Teaspoon

Soft bread crumbs

1/2 Cup (16 tbs)

Milk

1/4 Cup (16 tbs)

Caraway seed

1 1/2 Teaspoon

Thyme

1/4 Teaspoon

Flour

1 Tablespoon

Melted butter

1 Tablespoon

Bouillon cube

1

White wine

1/3 Cup (16 tbs)
Directions
Core cabbage; tear leaves apart.
Cover leaves with boiling water to wilt.
Drain; line bottom and sides of greased loaf pan with cabbage leaves.
Chop olives; reserve 1/4 cup.
Mix olives, ground beef, onions, salt, egg, pepper, crumbs, milk, caraway seed and thyme; blend thoroughly.
Spread half the beef mixture in pan; add layer of cabbage leaves.
Cover with remaining beef.
Top with cabbage leaves.
Bake, covered, at 350 degrees for 1 hour and 30 minutes.
Drain off pan drippings; add enough water to measure 2/3 cup.
Blend flour with butter; stir liquid mixture into flour gradually.
Add bouillon cube and wine; cook, stirring constantly, until thickened slightly.
Add reserved olives.