»

Recipes

»

European

»

Ricotta Stuffed Sweet Potato Pancake
Ricotta Stuffed Sweet Potato Pancake Recipe
Fluffy, decadent and DIVINE! These sweet potato pancakes, stuffed with ricotta cheese and dripping with maple syrup, are just too good to be true. Seriously, they might be illegal. Don't nark on me!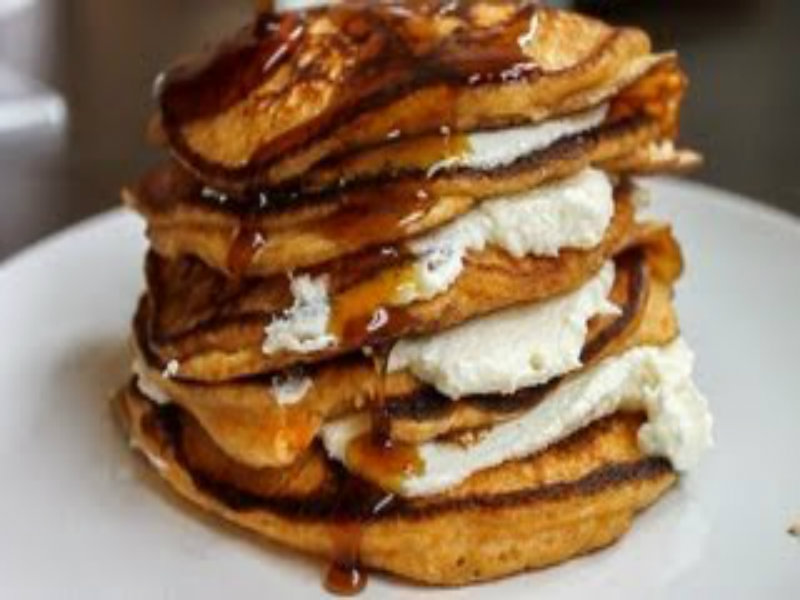 Summary
Preparation Time
25 Min
Cooking Time
1 Hr 15 Min
Ready In
1 Hr 40 Min
Difficulty Level
Medium
Health Index
Average
Servings
2
Ingredients
Sweet potato

1 Large

Flour

1 1⁄3 Cup (21.33 tbs)

Milk

1 1⁄2 Cup (24 tbs)

Eggs

2

Brown sugar

3 Tablespoon

Baking powder

2 Teaspoon

Salt

1⁄2 Teaspoon

Ricotta cheese

1⁄2 Cup (8 tbs)

Maple syrup

1 Tablespoon

(warmed)

Pecans

1 Tablespoon

, chopped finely
Nutrition Facts
Serving size
Calories 806 Calories from Fat 217
% Daily Value*
Total Fat 25 g38%
Saturated Fat 10.4 g52.1%
Trans Fat 0 g
Cholesterol 259.8 mg
Sodium 1112.2 mg46.3%
Total Carbohydrates 120 g39.9%
Dietary Fiber 5.2 g20.9%
Sugars 40.1 g
Protein 29 g58.3%
Vitamin A 226.7% Vitamin C 3.1%
Calcium 75.9% Iron 35.4%
*Based on a 2000 Calorie diet
Directions
GETTING READY
1. Pre heat the oven to 400 degrees F.
2. Peel the sweet potato.
MAKING
3. Wrap it in tinfoil and bake it for about an hour in the pre-heated oven.
4. In a mixing bowl, add the flour, salt and baking powder to a sieve and sift it.
5. Throw in the brown sugar.
6. Crack and separate the two eggs and whisk the egg yolks with the milk.
7. Remove the sweet potato from the oven and when done, rice it. You can also mash with a potato masher or a fork.
8. Add the riced sweet potato to the dry mixture, mixing it well.
9. Work the above mixture in the whisked egg and milk mixture, until completely combined.
10. Beat the egg whites until they are fluffy and stiff. Fold the egg whites into the sweet potato mixture, do not overly mix it.
11. In a buttered skillet, over a medium heat, ladle in the sweet potato pancake mixture.
12. When bubbles form on top and the edges look crispy, flip the cakes.
13. In a small bowl, whisk the ricotta cheese, so that it gets a creamier texture and becomes easy to spread.
SERVING
14. When the pancakes are done, layer with ricotta and top with maple syrup and diced pecans and serve right away.
Recipe Courtesy of:
cookingstoned.tv