»

Recipes

»

Cake

»

Rich Chocolate Cake
Rich Chocolate Cake Recipe
The combination of rich ingredients produces a decadent, caramel-soaked cake that's sure to be a hit!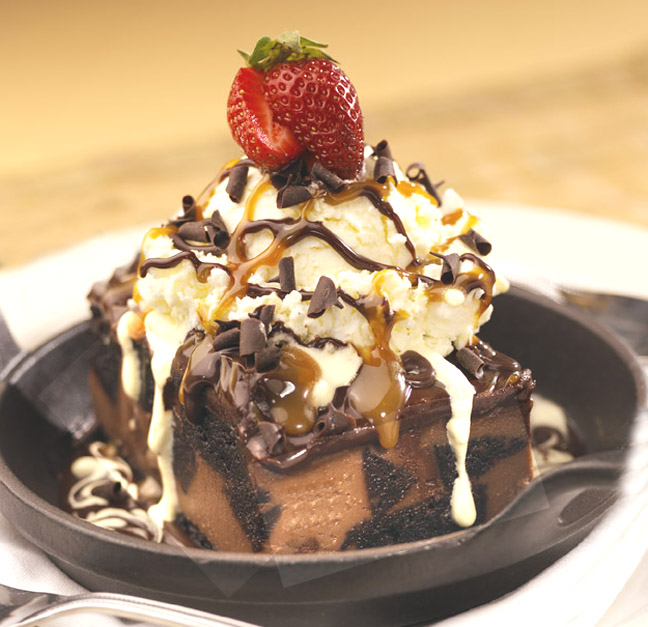 Summary
Preparation Time
10 Min
Cooking Time
3 Hr 5 Min
Ready In
3 Hr 15 Min
Difficulty Level
Bit Difficult
Health Index
Average
Servings
12
Ingredients
German chocolate cake mix

200 Gram

Water

200 Milliliter

Sweetened condensed milk

14 Ounce

Vegetable oil

50 Milliliter

Eggs

4

Caramel topping/Butterscotch or fudge topping

17 Ounce

Frozen whipped topping

8 Ounce

(Thawed)

Toffee chips/Bits

8 Ounce
Nutrition Facts
Serving size
Calories 519 Calories from Fat 131
% Daily Value*
Total Fat 18 g28.2%
Saturated Fat 8.1 g40.7%
Trans Fat 0 g
Cholesterol 81.7 mg
Sodium 386.1 mg16.1%
Total Carbohydrates 83 g27.8%
Dietary Fiber 0.39 g1.5%
Sugars 67.7 g
Protein 7 g13.1%
Vitamin A 3.4% Vitamin C 1.4%
Calcium 13% Iron 4.2%
*Based on a 2000 Calorie diet
Directions
1. Heat oven to 350°F (325°F for dark or nonstick pan). Bake cake as directed on box for 13x9-inch pan.
2. Poke top of warm cake every 1/2 inch with handle of wooden spoon. Drizzle milk evenly over top of cake; let stand until milk has been absorbed into cake. Drizzle with caramel topping. Run knife around sides of pan to loosen cake. Cover and refrigerate about 2 hours or until chilled.
3. Spread whipped topping over top of cake. Sprinkle with toffee chips. Store covered in refrigerator.
High Altitude (3500-6500 ft): Follow High Altitude directions on cake mix box.

SAMANTHAGreer says :
Every body acknowledges that our life seems to be not very cheap, however some people require cash for different stuff and not every man gets big sums money. Therefore to receive good mortgage loans and auto loan should be a correct solution.
Posted on:
5 January 2012 - 7:08am