»

Recipes

»

Fruit

»

Rich Pecan Squares
Rich Pecan Squares Recipe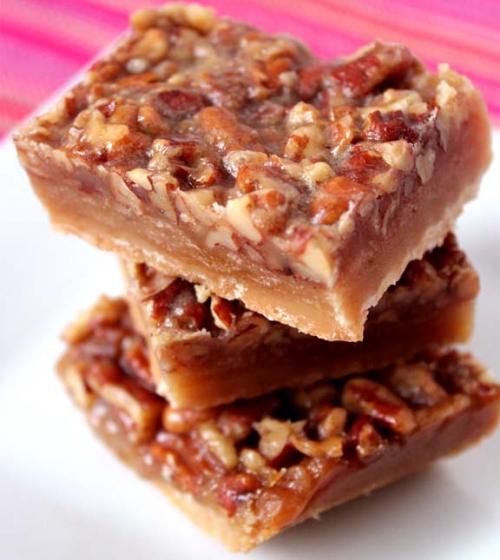 Ingredients
Butter

1⁄3 Cup (5.33 tbs)

Firmly packed brown sugar

1 1⁄2 Cup (24 tbs)

Egg

1

, separated

Vanilla

1 1⁄4 Teaspoon

Sifted all purpose flour

3⁄4 Cup (12 tbs)

Baking powder

1 Teaspoon

Salt

1⁄2 Teaspoon

Chopped pecans

3⁄4 Cup (12 tbs)
Nutrition Facts
Serving size: Complete recipe
Calories 2850 Calories from Fat 1102
% Daily Value*
Total Fat 128 g197.3%
Saturated Fat 45.5 g227.5%
Trans Fat 0 g
Cholesterol 372.7 mg
Sodium 1539.2 mg64.1%
Total Carbohydrates 419 g139.5%
Dietary Fiber 10.7 g43%
Sugars 333.8 g
Protein 25 g49.7%
Vitamin A 43.3% Vitamin C 1.6%
Calcium 76.9% Iron 57.9%
*Based on a 2000 Calorie diet
Directions
Cream the butter until light and fluffy.
Gradually beat in 1 cup of the brown sugar, the yolk of the egg, and 1 tsp of the vanilla, beating to make a smooth creamy batter.
Sift together the flour, baking powder, and salt and stir into the creamed mixture, along with 1/2 cup of the chopped pecans.
Spoon evenly into a greased 7" x 11" cake tin.
Beat the egg white till stiff but not dry.
Beat in the rest of the sugar and the vanilla.
Spread this topping over the batter.
Sprinkle with the remaining 1/4 cup chopped pecans.
Bake at 325 degrees for 35-40 minutes or until the top is lightly browned and the mixture has come away from the sides.