»

Recipes

»

Stock

»

Rich Chicken Stock
Rich Chicken Stock Recipe
Save time and money. Skip next visit to European restaurants and prepare Rich Chicken Stock in privacy and romance of your home! Preparation of dish will not take more than your 70 minutes. I bet you haven't tried any European dish like dish. The goodness of chicken makes dish a healthy treat. You won't regret spending your time making Rich Chicken Stock. What are you waiting for, try it now.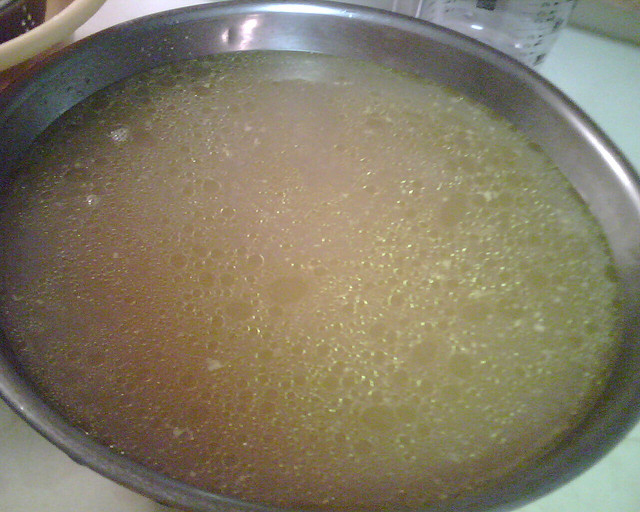 Ingredients
Chicken joints- 2 no-€™s

Pork belly

8 Ounce

Onion

1 Large

Bay leaf

1 Large

Peppercorns- 6 no-€™s

Water

2 1/2 Pint
Directions
MAKING
1. In a medium sized wok, combine all the ingredients and mix well. Bring to a boil.
2. Discard scum which rises to surface while boiling.
3. Once boiled, reduce flame and cover and cook for 60 minutes.
4. Once cooked, strain mixture through a soup strainer which is lined with muslin cloth.
5. Refrigerate and use as required.

SERVING
6. Shred chopped chicken joints and simmer along with prepared stock, seasoning and parsley to make a quick chicken soup.

TIPS
If chicken stock looks greasy, refrigerate and then discard fat that will form on surface.
This stock can be frozen and used as required as a base for any soup.
Image Courtesy :
http://www.flickr.com/photos/fabliaux/476226733/