»

Recipes

»

Pudding

»

Rice & Cauliflower Pudding
Rice & Cauliflower Pudding Recipe
This Pudding is made out of Rice & Cauliflower. Adding cauliflower is unusual as the florets gets merged with rice and it tastes delicious.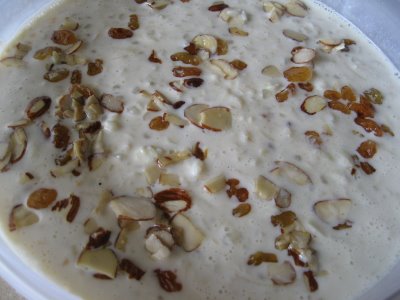 Ingredients
Rice

2 Cup (32 tbs)

Cooked cauliflower florets

3⁄4 Cup (12 tbs)

(small florets)

Milk

6 Cup (96 tbs)

Ghee

3 Teaspoon

Almonds

1⁄4 Cup (4 tbs)

Pistachio

1⁄4 Cup (4 tbs)

Raisin

1⁄4 Cup (4 tbs)

Cloves

1 Tablespoon

Cardamom pods

1 Tablespoon

, crushed

Sugar/2 tbsp sugar substitute)

1 Cup (16 tbs)
Nutrition Facts
Serving size
Calories 921 Calories from Fat 205
% Daily Value*
Total Fat 23 g36.1%
Saturated Fat 9.6 g47.9%
Trans Fat 0 g
Cholesterol 44 mg
Sodium 158.9 mg6.6%
Total Carbohydrates 160 g53.3%
Dietary Fiber 5.3 g21.1%
Sugars 76.5 g
Protein 22 g44.8%
Vitamin A 7.8% Vitamin C 3.1%
Calcium 46.3% Iron 12.7%
*Based on a 2000 Calorie diet
Directions
Steam the florets and keep it aside.
In a pan roast the almonds,Pistachio,Raisin, cardamom and cloves, in a low flame and keep it aside.
Wash the rice really well and soak it in warm water for 30 minutes.
Boil the milk in a heavy bottomed pan, and when it begins to boil, add the rice and steamed florets and stir well.
Keep on low flame and leave to cook uncovered with an every-5-minute-check-and-stir process until the rice and the florets gets merged together cooked and soft.
When done, add sugar (or the substitute) and ghee with the roasted mixture, and keep stirring slowly in a low flame for 5 minutes.
Remove and keep aside to cool, half-covered.
Garnish the dessert with saffron threads and serve it warm or cold (depending on your choice).

Anonymous says :
I made this for a cauliflower festival, with adjustments as follows. Increased cauliflower to 1 cup well cooked cauliflower (mashed with a fork first). Wanted to highlight the cauliflower more, as it was for a cauliflower festival, after all. I also increased and sauteed the nuts (3/4 c. sliced almonds, 3/4 c. whole unsalted pistachios) in 1 T of whole butter, until toasted and golden brown. Added golden raisins (1/2 c) and the following spices: 1/4 tsp ground cloves, 1/2 tsp ground cardamom, 1/2 tsp ground cinnamon. (really felt a whole Tbsp of cardamom in any form was excessive, and a Tbsp of cloves???? Form not listed but I'm assuming whole cloves were used and then should be picked out at the end and I didn't want to go that route). Added the nut mixture when the pudding was done. Oh...and I also used Arborio rice (a short-grain variety), because I intended to serve this item cold. Also made a granny smith apple and orange marmalade compote with fresh grated ginger as a sauce to put on top. Definitely different, and not excessively sweet or overpowering in any way. You can "just" taste the cauliflower in this method...enough to recognize.
Posted on:
25 September 2009 - 10:53am