»

Recipes

»

Pilaf

»

Rice Pilaf
Rice Pilaf Recipe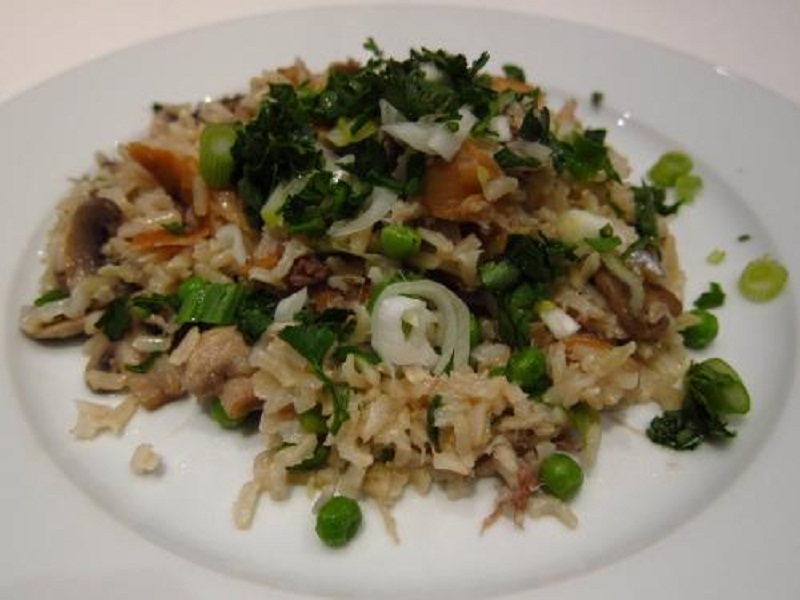 Ingredients
Margarine

2 Tablespoon

(Acceptable)

Chopped onion

1⁄2 Cup (8 tbs)

Chopped celery

1⁄4 Cup (4 tbs)

Chopped green bell pepper/Chopped red bell pepper

1⁄2 Cup (8 tbs)

Homemade chicken broth/Commercial low-sodium variety / water

2 Cup (32 tbs)

Uncooked long grain rice

1 Cup (16 tbs)

Sliced fresh mushrooms

1⁄2 Cup (8 tbs)

Chopped fresh parsley

2 Tablespoon

Freshly ground black pepper

3⁄4 Teaspoon

(Or To Taste)
Nutrition Facts
Serving size: Complete recipe
Calories 982 Calories from Fat 229
% Daily Value*
Total Fat 26 g39.8%
Saturated Fat 4.7 g23.7%
Trans Fat 0 g
Cholesterol 0 mg
Sodium 1266.5 mg52.8%
Total Carbohydrates 167 g55.5%
Dietary Fiber 5.4 g21.7%
Sugars 8.7 g
Protein 19 g37.5%
Vitamin A 80% Vitamin C 171.3%
Calcium 11.4% Iron 28.4%
*Based on a 2000 Calorie diet
Directions
In a small skillet over medium-high heat, melt margarine.
Add onion, celery and bell pepper and saute 3 minutes.
Set aside.
Place broth and rice in a saucepan over medium heat.
Add onion mixture and mushrooms.
Reduce heat and simmer, covered, 30 to 40 minutes, or until rice is tender and liquid is absorbed.
Add parsley and black pepper.
Fluff before serving.