»

Recipes

»

Sandwich
Reuben Sandwich Recipe
This Reuben sandiwch provides you a wholesome meal. A quick and easy recipe you can make it in minutes. You can eat right even with a busy schedule. Enjoy!!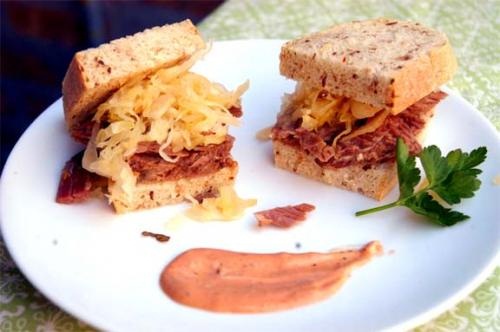 Ingredients
Pumpernickel bread slices

12

Prepared mustard

1⁄2 Cup (8 tbs)

Swiss cheese slice

6

Sauerkraut

6 Tablespoon

(drained)

Sliced corned beef

1⁄2 Pound

Butter

1 Tablespoon
Nutrition Facts
Serving size
Calories 292 Calories from Fat 108
% Daily Value*
Total Fat 12 g18.7%
Saturated Fat 6.8 g34.1%
Trans Fat 0 g
Cholesterol 45 mg
Sodium 1319.7 mg55%
Total Carbohydrates 27 g9.1%
Dietary Fiber 4.5 g18%
Sugars 0.7 g
Protein 20 g39.8%
Vitamin A 1.6% Vitamin C 4.2%
Calcium 31.5% Iron 11.3%
*Based on a 2000 Calorie diet
Directions
Spread 6 slices bread with mustard; top with cheese, 1 tablespoon sauerkraut and corned beef.
Cover with remaining bread.
Spread butter on both sides of bread.
Grill on both sides until hot and cheese is melted.