»

Recipes

»

Shake

»

Refreshing Mango Shake By Pallavi
refreshing mango shake by pallavi Recipe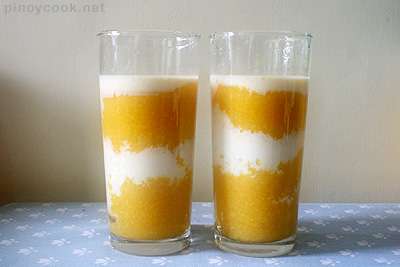 Ingredients
Mango shake

12 Ounce

Cubed ice

1⁄2 Cup (8 tbs)

Milk

1⁄2 Cup (8 tbs)

Vanilla ice cream

2 Cup (32 tbs)

(4 Scoops)

Mango pulp

1⁄2 Cup (8 tbs)
Nutrition Facts
Serving size: Complete recipe
Calories 1407 Calories from Fat 508
% Daily Value*
Total Fat 56 g86.9%
Saturated Fat 34.7 g173.5%
Trans Fat 0 g
Cholesterol 222.5 mg
Sodium 459.3 mg19.1%
Total Carbohydrates 203 g67.7%
Dietary Fiber 6.7 g26.8%
Sugars 183.4 g
Protein 24 g49%
Vitamin A 72.7% Vitamin C 154.8%
Calcium 81.7% Iron 2.6%
*Based on a 2000 Calorie diet
Directions
Directions:
1. In an electrical blender, add the ice, milk and vanilla ice cream. Blend at high speed for 3 minutes

2. Add 1/2 cup of mango pulp, pour in a tall glass and serve

Anonymous says :
dont want to be too kj..but i think the recipe's too simple....just the ice, water and mango? pls add more so it'll be more attractive:D
Posted on:
26 October 2009 - 10:08am

arthi says :
seems to be nice.shall try and let you know.
Posted on:
12 June 2007 - 12:56am

Hello!!! nice combination of  colours, really looking g8. keep  try to make some other recipes for summer.
Posted on:
7 June 2007 - 9:21am