»

Recipes

»

Pudding

»

Red Fruit Pudding With Cream
Red Fruit Pudding With Cream Recipe
Red Fruit Pudding With Cream is an amazingly delicious dessert recipe. Try this tempting and alluring Red Fruit Pudding With Cream; I am sure you will always want to have it in your coming parties!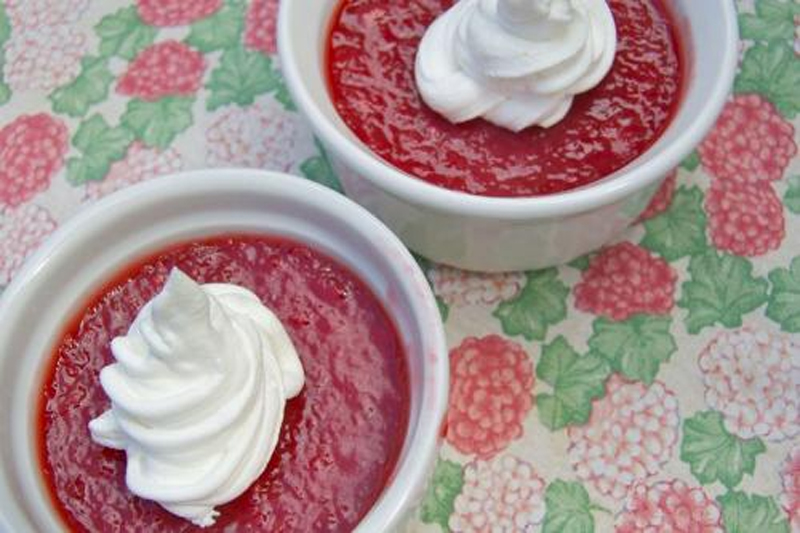 Ingredients
1 1/2 pounds raspberries or strawberries

Lemon juice

2 Teaspoon

Sugar

4 Tablespoon

2 tablespoons plus 1 teaspoon arrowroot

Water

1/3 Cup (16 tbs)

Blanched almonds

3 Tablespoon

2/3 cup light cream or equal portions heavy cream and half-and-half
Directions
Place berries in a chinois or other fine mesh strainer and set over an enamel or stainless-steel saucepan.
Press berries through the sieve into the pan, discarding any seeds or residue that cannot pass through the sieve.
Stir 1 or 2 teaspoons lemon juice into fruit puree, depending on the tartness of the berries.
Sweeten the berries by adding 3 to 4 tablespoons sugar to the pan.
Place saucepan over medium-high heat and bring to a gentle boil, stirring constantly.
Let boil 1 or 2 minutes, then remove pan from heat to stop the boiling.
Combine the arrowroot and water, stirring to make a smooth mixture.
Stir arrowroot into the hot berry puree.
Lower the heat and continue cooking at a simmer, again stirring constantly, 2 to 3 minutes, until pudding thickens slightly and becomes a little clearer in color.
Do not let the pudding boil.
Cool slightly before pouring pudding into 6 small individual dishes or a small crystal bowl.
Chill well, then serve garnished with slivered almonds.
Pass the cream on the side.