»

Recipes

»

Salad

»

Raw Mushroom Salad
Raw Mushroom Salad Recipe
Raw mushroom salad made with button mushrooms along with just a handful of ingredients is an easy to prepare and convinient side dish or vegetarian lunch. With some more additions, this raw mushroom salad can be served as a full lunch by itself.
Mushroom Salad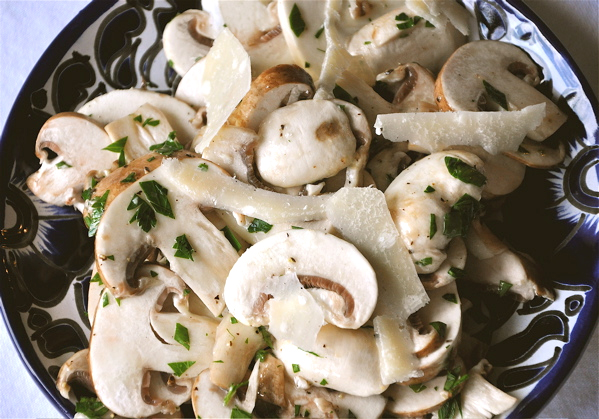 Ingredients
Button mushrooms

1 Pound

Lemon

1

, juiced

Olive oil

8 Tablespoon

Salt

To Taste

Freshly ground black pepper

To Taste

Finely chopped chives

1 Teaspoon

Finely chopped parsley

1 Teaspoon
Nutrition Facts
Serving size
Calories 196 Calories from Fat 179
% Daily Value*
Total Fat 20 g31.2%
Saturated Fat 2.8 g14%
Trans Fat 0 g
Cholesterol 0 mg
Sodium 69.6 mg2.9%
Total Carbohydrates 4 g1.2%
Dietary Fiber 1.3 g5.2%
Sugars 1.3 g
Protein 3 g5%
Vitamin A 2.1% Vitamin C 17.6%
Calcium 1.1% Iron 3.7%
*Based on a 2000 Calorie diet
Directions
Remove the stalks from the mushrooms, wash and dry the caps and cut into slices.
Arrange in a shallow salad bowl.
Blend the lemon juice and oil, add salt and pepper to taste and pour over the mushrooms.
Toss carefully and set aside to chill for at least 1/2 hour.
Before serving, sprinkle with the chives and parsley.
VARIATION Prepare the mushrooms as above and add 3-4 tablespoons mayonnaise to the lemon and oil dressing.