»

Recipes

»

Milk

»

Rava
Rava Recipe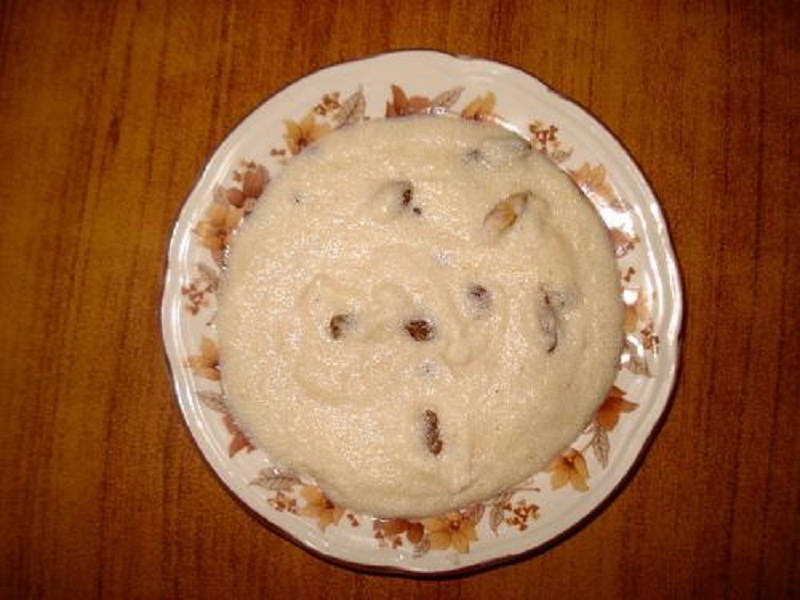 Ingredients
Butter

3 Tablespoon

Fine semolina

3 Tablespoon

Water

1 Cup (16 tbs)

Sugar

4 Tablespoon

Full cream milk

1 Liter

Cream

1 Cup (16 tbs)

Rose water

2 Tablespoon

Salt

1 Pinch

Coarsely ground cardamom/Nutmeg

1 Teaspoon

Almonds

2 Tablespoon

, blanched and slivered (For Garnish)

Sultana

2 Tablespoon

(For Garnish)

Butter

2 Tablespoon

(For Garnish)

Powdered cardamom/Nutmeg

1 Teaspoon

(For Garnish)

Rose petals

4

(Pale Pink Colored, For Garnish)
Nutrition Facts
Serving size
Calories 669 Calories from Fat 263
% Daily Value*
Total Fat 29 g45.2%
Saturated Fat 16.7 g83.3%
Trans Fat 0 g
Cholesterol 69.4 mg
Sodium 273.9 mg11.4%
Total Carbohydrates 91 g30.2%
Dietary Fiber 2.4 g9.4%
Sugars 53.3 g
Protein 14 g27.6%
Vitamin A 16.5% Vitamin C 1.3%
Calcium 44.5% Iron 5.5%
*Based on a 2000 Calorie diet
Directions
Melt butter in a pan and add semolina.
Saute for one minute, add water, salt and sugar and simmer, stirring continuously till thick.
Please use a flat-based wooden spoon, so that you can scrape the entire surface of the base of the pan.
In this way no lumps will form.
Add milk and continue simmering and stirring till it starts thickening.
Add cream and continue cooking till it reaches the consistency of pourable porridge.
Keep stirring while it cools so that it does not form a layer of skin.
Add spices and rosewater.
Pour into a glass dish and garnish with lightly fried almonds and sultanas and powdered spices and rose petals.
Serve at room temperature or chilled.
I prefer it chilled.