»

Recipes

»

Pasta

»

Ravioli

»

Ravioli Marinara
Ravioli Marinara Recipe
So what if it's from a jar! Any tomato pasta sauce will do, especially when you add a blend of frozen mixed veggies, cannellini beans and a little Parmesan to top this ready-to-go ravioli.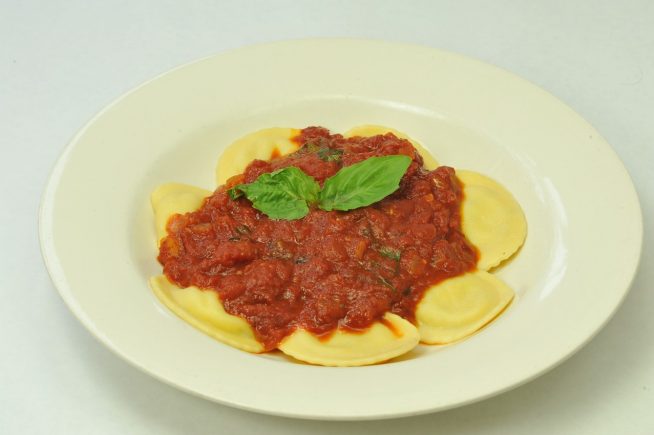 Ingredients
Frozen cheese filled ravioli

27 1⁄2 Ounce

Tomato pasta sauce

28 Ounce

(Any Chunky Variety)

Frozen broccoli

1⁄4 Pound

Frozen green beans

1⁄4 Pound

Frozen red peppers

1⁄4 Pound

Frozen pearl onions

1⁄4 Pound

Cannellini

15 Ounce

, progresso (Drained Rinsed White Kidney Beans)

Shredded parmesan cheese

1⁄4 Cup (4 tbs)
Nutrition Facts
Serving size
Calories 463 Calories from Fat 85
% Daily Value*
Total Fat 10 g15.9%
Saturated Fat 3.1 g15.5%
Trans Fat 0 g
Cholesterol 32.1 mg
Sodium 998.2 mg41.6%
Total Carbohydrates 72 g23.9%
Dietary Fiber 9.8 g39.1%
Sugars 8.4 g
Protein 21 g42.3%
Vitamin A 50.9% Vitamin C 108.3%
Calcium 27.8% Iron 17%
*Based on a 2000 Calorie diet
Directions
1. Cook and drain ravioli as directed on package.
2. While ravioli is cooking, mix pasta sauce, vegetables and beans in 3-quart saucepan. Heat to boiling; reduce heat. Simmer uncovered 6 to 8 minutes or until vegetables are tender.
3. Serve vegetable mixture over ravioli. Serve with cheese.