»

Recipes

»

French

»

Ratatouille Polenta Bake
Ratatouille Polenta Bake Recipe
Please pass the polenta. Love the loads of veggie topping!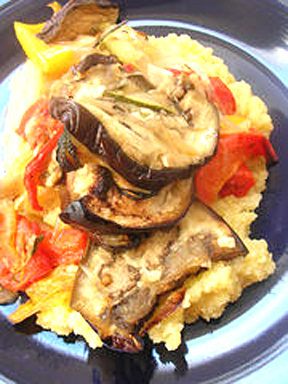 Ingredients
Chopped parsley

1⁄4 Cup (4 tbs)

(fresh)

Onion

1⁄2 Cup (8 tbs)

, coarsely chopped (1 medium sized)

Bell pepper

1 Cup (16 tbs)

, coarsely chopped (1 medium sized)

Unpeeled eggplant

1 Pound

, diced (1 small sized)

Zucchini

1 Cup (16 tbs)

, diced (1 medium sized)

Salt

1⁄2 Teaspoon

Pepper

1⁄4 Teaspoon

Canned italian style stewed tomatoes

14 1⁄2 Ounce

(undrained)

Refrigerated plain polenta

16 Ounce

(can use any flavor if desired)

Shredded parmesan cheese

2 Tablespoon

Shredded mozzarella cheese

3 Ounce

(shredded finely)
Nutrition Facts
Serving size
Calories 259 Calories from Fat 101
% Daily Value*
Total Fat 11 g17.6%
Saturated Fat 5 g25%
Trans Fat 0 g
Cholesterol 23.4 mg
Sodium 1111.6 mg46.3%
Total Carbohydrates 31 g10.4%
Dietary Fiber 6.2 g24.9%
Sugars 8.8 g
Protein 12 g24.5%
Vitamin A 14.6% Vitamin C 79.2%
Calcium 25.1% Iron 40.1%
*Based on a 2000 Calorie diet
Directions
1. Heat oven to 375ºF. Spray 12-inch nonstick skillet with cooking spray; heat over medium-high heat. Cook onion and bell pepper in skillet 2 minutes, stirring occasionally. Stir in eggplant, zucchini, salt and pepper. Cook 3 to 4 minutes, stirring occasionally, until vegetables are tender. Stir in tomatoes, breaking up with spoon; reduce heat to low. Cook 3 minutes, stirring occasionally.

2. Spray rectangular baking dish, 11x7x1 1/2 inches, with cooking spray. Cut polenta into 1/4-inch slices. Arrange slices on bottom of dish, overlapping and cutting to fit where necessary. Sprinkle with Parmesan cheese. Spoon vegetable mixture evenly over top.

3. Cover and bake 30 minutes. Sprinkle with mozzarella cheese and parsley. Bake uncovered about 15 minutes or until cheese is melted and casserole is bubbly. Let stand 5 minutes before serving.