»

Recipes

»

French

»

Easy Microwaved Ratatouille
Easy Microwaved Ratatouille Recipe
Ratatouille is a spicy mixed vegetables dish that you might want to try out for your next meal. Try this zucchini, eggplant and tomato spiced with garlic and pepper and herbed with oregano and marjoram leaves for your next meal. Your suggestions for this Ratatouille are welcome.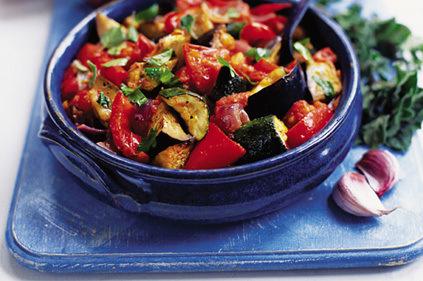 Summary
Difficulty Level
Easy
Health Index
Average
Ingredients
Sliced onion

1 Cup (16 tbs)

Butter/Margarine

2 Tablespoon

Eggplant

1 Medium

, pared and cut into 1/2 inch pieces to 2 cups

Zucchini

2 Medium

, cut lengthwise, then into 1/4 inch pieces

Green pepper

1 Medium

, cut into strips

Salt

1⁄2 Teaspoon

Marjoram leaves

1⁄2 Teaspoon

Oregano leaves

1⁄4 Teaspoon

Garlic salt

1⁄4 Teaspoon

Pepper

1⁄8 Teaspoon

Tomatoes

2 Large

, peeled and cut into wedges
Nutrition Facts
Serving size: Complete recipe
Calories 492 Calories from Fat 234
% Daily Value*
Total Fat 27 g41.1%
Saturated Fat 15.9 g79.4%
Trans Fat 0 g
Cholesterol 64.5 mg
Sodium 1436.3 mg59.8%
Total Carbohydrates 63 g20.9%
Dietary Fiber 24.4 g97.6%
Sugars 31.8 g
Protein 14 g27.4%
Vitamin A 104.5% Vitamin C 404.1%
Calcium 16.8% Iron 21.2%
*Based on a 2000 Calorie diet
Directions
1. Put onion and butter into a 2-quart glass casserole. Cook uncovered in microwave oven 1 1/2 minutes at High; stir after 1 minute.
2. Add eggplant, zucchini and green pepper to onion and butter. Cover with an all-glass lid or plastic wrap. Cook in microwave oven 3 minutes at High.
3. Add seasonings to vegetables and stir well. Cook covered in microwave oven 2 minutes at High.
4. Add tomatoes and mix well. Cook covered in microwave oven 5 to 6 minutes at High, or until vegetables are tender.