»

Recipes

»

French

»

Tomato Eggplant Ratatouille
Tomato Eggplant Ratatouille Recipe
Ratatouille has a lovely taste. Ratatouille gets its taste from eggplant mixed with zucchini and cheese. Ratatouille is inspired by many food chains across the world.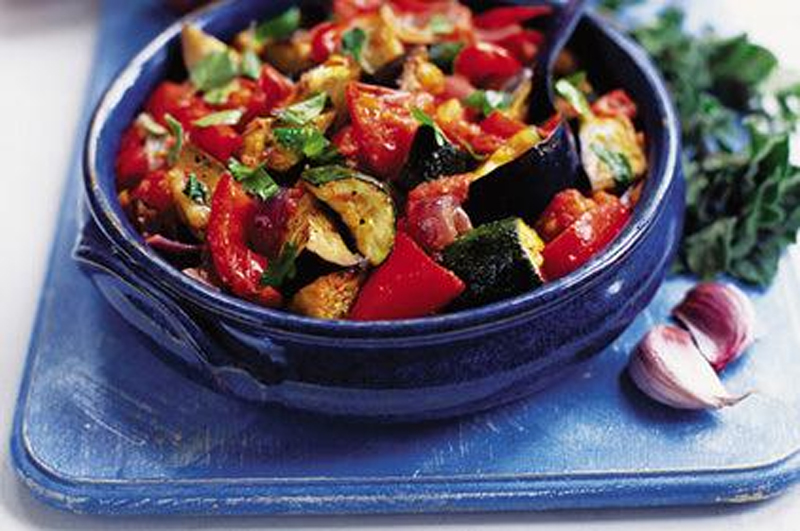 Ingredients
Green peppers

3

, cut into strips

Eggplants

3 Small

Zucchini

3

Tomatoes

4

Olive oil

4 Tablespoon

Onion

1 Large

, sliced

Garlic

1 Clove (5 gm)

, crushed (Large Ones)

Salt

To Taste

Ground black pepper

To Taste

Bay leaf

1⁄2

Parsley sprigs

3

, chopped

Grated parmesan cheese

2 Tablespoon

Butter/Margarine

2 Tablespoon
Nutrition Facts
Serving size: Complete recipe
Calories 1540 Calories from Fat 864
% Daily Value*
Total Fat 98 g151.1%
Saturated Fat 30 g150.1%
Trans Fat 0 g
Cholesterol 90.9 mg
Sodium 986.4 mg41.1%
Total Carbohydrates 154 g51.4%
Dietary Fiber 61.8 g247.4%
Sugars 72.5 g
Protein 42 g83.9%
Vitamin A 169.6% Vitamin C 967.1%
Calcium 71.5% Iron 53.2%
*Based on a 2000 Calorie diet
Directions
lengthwise and slice.
Scrub zucchini thoroughly and cut into 1/4 inch (1/2 centimeter) slices.
Lightly salt the eggplant and zucchini slices, arrange them in layers in bowl and weigh down with a heavy plate or platter.
Let stand about 30 minutes, then dry slices on absorbent paper.
Peel and coarsely chop (or quarter) tomatoes.
Heat some of the oil in a large skillet or heatproof casserole; add onion, garlic, salt and black pepper.
Cook 3 to 5 minutes over high heat.
Add sliced eggplant and zucchini and cook 2 or 3 minutes longer, adding more oil as needed.
Add tomatoes and season to taste with salt and pepper; add bay leaf and parsley.
Cover tightly and cook until vegetables are just tender (not mushy).
Sprinkle generously with grated cheese.
Dot with butter and place under broiler heat a few minutes until top is lightly browned.