»

Recipes
Raspberry Cheesecake Recipe
My sister likes this raspberry cheesecake recipe. This recipe was given to her by one of her friends. Whenever there is a party in our house, she prepares this dessert. All the guests like this dessert very much and thank her for preparing it. Which makes my sister very happy. Have a happy moment must try this raspberry cheesecake recipe.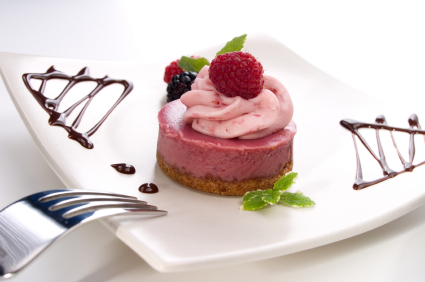 Ingredients
Graham cracker crumbs

1⁄2 Cup (8 tbs)

Butter

1 Tablespoon

, melted

Cottage cheese

1⁄2 Cup (8 tbs)

Ricotta cheese

1⁄2 Cup (8 tbs)

Egg white

1

Whole egg

1

Evaporated milk

1⁄4 Cup (4 tbs)

Sugar

1⁄4 Cup (4 tbs)

Lemon/Grated

Bag (0 kg)

, tablespoon

Lemon juice

1⁄4 Cup (4 tbs)

Flour

1⁄8 Cup (2 tbs)

Raspberries

3⁄4 Cup (12 tbs)

, garnish
Directions
Stage1-In a bowl, combine the crumbs and butter. press into bottom of a greased 9 inch loose-bottomed or springform pan. Place pan in freezer while you prepare the filling.
Stage2-In a blender or food processor, place all remaining ingredients except the flour and raspberries and blend until smooth.
Stage3-Add flour and blend for 12 seconds until ingredients are thoroughly mixed.
Satge4-Remove crust from freezer and pour in the filling.
Stage5-Bake at 325 degrees fareinhite for 50 minutes or until the filling has set.
Stage6-Cool, on a rack. Loosen edges of cheesecake with a knife and remove the sides of the pan, but not the bottom, from the cheesecake.
Stage7-Place on a serving platter and top with raspberries.

Mrs Weffy says :
photo is misleading. I was expecting instructions for the single serve mini cheesecake and like the comment above I am wondering about the colouring as well. This is my first time on this site and if all your recipes are misrepresented by their photos I will make a sticky for my desktop to avoid search results for future use
Posted on:
4 June 2012 - 11:21am

Anonymous says :
It sounds great, but the picture shows pink filling and the recipe just says to put the raspberries on top. What am I missing?
Posted on:
22 November 2009 - 10:48pm

Its awesome recipe.
Posted on:
13 September 2008 - 11:11am

It is also beautiful .
Posted on:
12 April 2008 - 2:18pm