»

Recipes

»

Brownie

»

Raspberry Brownies
Raspberry Brownies Recipe
Based on a fudgy brownie mix, these quick-to-fix brownies combine the best of sweet flavors and chewy textures. Mmm!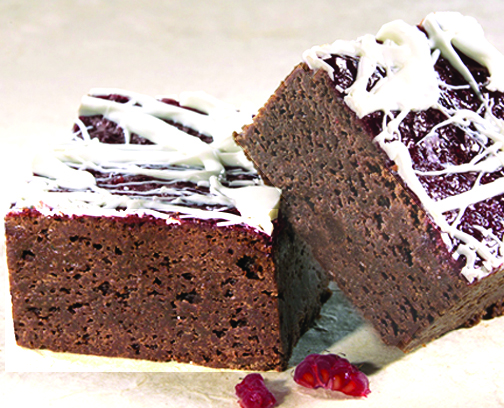 Ingredients
Fudge brownie mix

1 Pound

(Betty Crocker)

Water

1⁄4 Cup (4 tbs)

Vegetable oil

1⁄2 Cup (8 tbs)

Eggs

2

Cream cheese

8 Ounce

, softened

Powdered sugar

1⁄2 Cup (8 tbs)

Raspberry preserves

1⁄2 Cup (8 tbs)

Baking chocolate

1 Ounce

(Unsweetened)

Butter/Margarine

1 Tablespoon
Nutrition Facts
Serving size
Calories 389 Calories from Fat 186
% Daily Value*
Total Fat 21 g32.4%
Saturated Fat 7.1 g35.7%
Trans Fat 0 g
Cholesterol 58.7 mg
Sodium 245.8 mg10.2%
Total Carbohydrates 48 g15.9%
Dietary Fiber 1.5 g6%
Sugars 35 g
Protein 4 g8.3%
Vitamin A 6.2% Vitamin C
Calcium 3.2% Iron 11.5%
*Based on a 2000 Calorie diet
Directions
1. Heat oven to 350ºF. Grease bottom only of rectangular pan, 13x9x2 inches. Stir brownie mix, water, oil and eggs in medium bowl until well blended. Spread in pan.
2. Bake 28 to 30 minutes or until toothpick inserted 2 inches from side of pan comes out clean or almost clean. Cool completely in pan on wire rack, about 1 hour.
3. Beat cream cheese, powdered sugar and preserves in small bowl with electric mixer on medium speed until smooth. Spread over brownies. Refrigerate 15 minutes.
4. Place chocolate and butter in small microwavable bowl. Microwave uncovered on Medium (50%) about 1 minute or until mixture can be stirred smooth. Drizzle over brownies. Refrigerate about 1 hour or until chocolate is firm. For 18 brownies, cut 6 rows by 3 rows. Store covered in refrigerator.

I love brownies, but have never tried the one with rasberries! Would definitely try this one out. Thanks for the recipe Maria!
Posted on:
2 November 2008 - 3:16am

Nice Raspberry Brownies Recipe. But I want to know that can I use olive oil for this dessert?
Posted on:
23 February 2008 - 10:57am